News
'I dreamed that you were coming'
Actually I wanted to go to Moldova to help evacuate and accompany traumatized Jewish refugees from Ukraine. But at the moment I went it was relatively quiet. The elderly find it incredibly hard to let go of their soviet apartments and their familiar surroundings, while the younger families are waiting for the mandatory military service requirement to be lifted so they can take their husbands along.
But when a door closes somewhere, God opens a window. In the course of many evacuation trips from Ukraine to the airport in Moldova's capital Chisinau (pronounced Kishinyao), our team got in touch with a local rabbi who linked us up with the Jewish welfare organization Hesed in Beltz (Balti). "Shtelele Beltz" had nearly 15,000 Jewish inhabitants in the 1930s – more than 60 percent of the city's population. After the German invasion in the summer of 1941, Bessarabia – as the region was called then – was occupied by Romania, which was allied then with Nazi Germany. The Jewish population was largely deported across the border river Dniestr to the ghettos and death camps on Ukrainian territory. Many people perished on the way.
We are driving across the country. The sound of our VW bus rattling across the Soviet concrete highway is reminiscent of a ride in an old train car. We have left the prefab buildings of the capital behind. Out here in the countryside where man hasn't built anything, the country is beautiful and so incredibly green. Soft hills alternate with vineyards and fruit tree plantations as far as they eye can see. The evening sun is casting a warm light on the landscape, creating the impression of a Tuscan calendar image. Once in a while the romantic scenery is interrupted by a farm or a horse cart.
I am here for the first time visiting Moldova, the poorest country in Europe. In a way, everything feels very familiar, as if I was in Ukraine instead – as if I had never left. Hard to imagine that just a few hours away, a war is raging.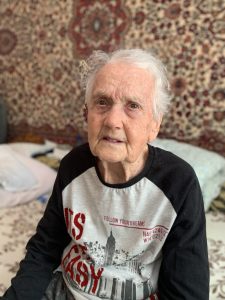 Lubov is the first lady we visit in the Beltz region. She turned 100 on April 5. She looks so fragile on the sofa where her daughter is leading us, as if you could lift her with one hand. But her spirit is wide awake, and she straightens up to meet her guests.
She was born in 1922 in this very village, Drokia. Her father, Isaac, was a tailor. Her mother dyed the most beautiful fabrics. "Everyone spoke Yiddish in our household," said Lubov. "Dad died when I was four. And Mom got poisoned dying fabrics one day."  She died when Lubov was just 14. From then on, the elder siblings had to take care of the younger ones.
"Then the war started. They made us all walk to a camp in Kodyma," Lubov shares. "Somewhere along the way, my brother Avraham couldn't continue. He got sick. They simply shot him. They shot his whole family, his wife and his two boys.
My sister also went to the camp with me. I carried her little girl on my arms. She was just 2. She starved. She died in my arms on the way." The memories make tears well up in her eyes.
"They drove us from place to place – across the Dniestr to Transnistria. We completely lost track of time. Once a car stopped in a village. It was German soldiers. One of them gave me two loaves of bread and vitamins. Such things also happened. I was so happy about this gift. I immediately shared it with my sister."
"I have seen so much," Lubov says again and again. "So many terrible things…" She was taken from camp to camp with her family. "We had to live under the open sky for an entire month. Then they made us construct roads… One day a bullet hit me. I thought, that's it. But then, a Ukrainian woman saved me. She took me home and took care of me. And then she helped me to flee. My entire family perished. Only my youngest brother survived. The Russians caught him and thought he deserted, so they arrested him. That's how he survived."

But Lubov ("love") has not turned bitter. Looking back on her hard life, she comes to this amazing conclusion:
"Today I have two daughters, three grandchildren and three great-grandchildren. God restored to me in my children and grandchildren everything I lost in my youth."
And then she has yet another special piece of information for us: "I dreamed on Sunday that you were coming. That a woman would come and wrap a beautiful scarf around me. God sent you. I most certainly do not deserve it that someone comes to see me. It amazes me and it's wonderful for me."
About the Author