Support Aliyah
Young people from Ukraine on their way to Israel – despite the war
Just in September, an international C4I team accompanied 26 Jewish teenagers from all over Ukraine on their way to Warsaw Airport for a new life in Israel. How are they doing in their new homeland, which has been under severe attack? And what about the young people who were already sitting on packed suitcases for the next flight? 
A few weeks ago, 26 young people from Ukraine's Jewish communities ventured out into a new life in Israel after years of preparation, accompanied by a Ukrainian-Dutch-German C4I team. Through the Na'aleh and Selah youth programs, Israel's Jewish Agency enables young people from the former Soviet Union to obtain their high school diploma in Israel or to continue their education in Israel. Exactly one month after their arrival, news of the devastating Hamas massacres went around the world. 

"They are all safe"
"All the young people who arrived from Ukraine on Sep. 7 are safe" – this relieving message reaches us from the Jewish Agency. Tanya, our contact person in Belaya Tserkov near Kiev, also has good news. "Veronika, one of the Na'aleh girls from our Jewish community, was assigned to a school in Kfar Silver, not far from Ashkelon. She is doing well. She has been evacuated with seven teenagers from her class to another school farther north. The program coordinators are very dedicated to taking care of the kids."  
A second group was scheduled to go to Israel in October. What about these young people? Surely the Aliyah has come to a standstill for the time being, after the horrific events of Oct. 7? Not at all. 

Via Budapest to Israel
As I write these lines, a bus with 16 promising young people and several C4I staff from Ukraine is on its way to Budapest. The flight had to be postponed several times due to the war in Israel, but now these amazing young people are ready to go and start a new life in the land of their ancestors. 
Gleb, 16, comes from near Dnepropetrovsk in eastern Ukraine. He is the youngest of four siblings – and the first to go to Israel. He would normally be in 11th grade now, but two years of Corona and two years of war in Ukraine have severely limited his educational opportunities. "In Israel, I want to do three more years of high school," Gleb says. "Definitely learn Hebrew well, then do my army service. I will take every opportunity to do my part for Israel."  
Oleg, 19, is from Kiev. His parents had made Aliyah before, but then returned with him to Ukraine. His brother lives in Haifa. Now Oleg, too, has decided to return to his original homeland, learn Hebrew, join the army. "I am not afraid of the war," Oleg says. "I thought it over carefully, and I decided that I do want to live in Israel. I want to stand by Israel in this difficult time and make it even stronger!"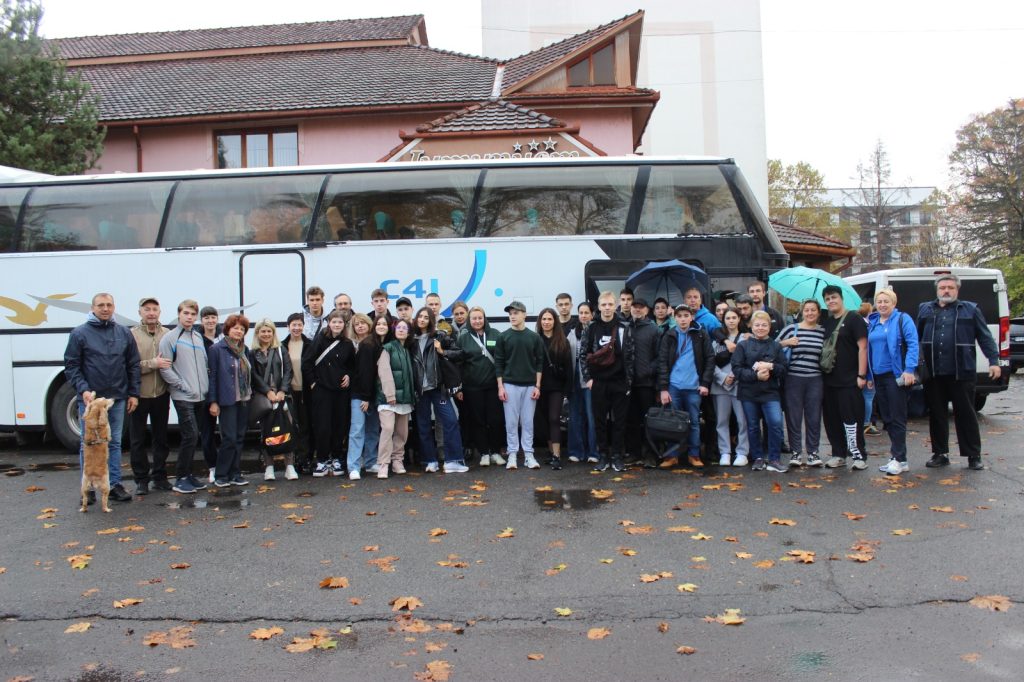 Firm resolve
Margarita, 18, comes from Kherson – the city on the Black Sea that has been under constant attack across the Dnieper River since Russian troops left just over a year ago. "We survived the whole occupation there," Margarita says. "But once they were gone from the city, it got really bad. We were bombed non-stop. Those were terrible days. There was no electricity, no water, nothing." The family decided to flee – first to Odessa, then to Uzhgorod. There, Margarita made the decision to go to Israel. "Mom encouraged me a lot – first to learn Hebrew well and then to study architecture," Margarita says. "But that was at the beginning of the year. Now Israel is at war. Mom is worried, of course, but she also knows that everything will be fine." Margarita's grandma and great-grandma are living in Haifa. "My mind was made up all along," Margarita says. "I have nothing to lose by going. But if I didn't go, I would lose a lot."  
Eva also comes from eastern Ukraine. Her older brother has been in Israel for seven years. Eva wants to focus on studying the language first, then study design. "And of course I'm going to join the army, definitely! No, I'm not afraid. Not at all. Staying in Ukraine is much more dangerous, and I don't see a future there. Yes, there is also a war going on in Israel now, but it's a different war. Israel is a strong country. There is nothing that can stop the spirit and the determination of the Israelis!"  
Please pray for these courageous young people who are set on fulfilling their and God's dream for their lives despite the rough circumstances.  
Would you also help us invest in their future? Every donation helps! 
Support in €
Support in US $