Support Food Parcels
Winter Food Parcel Campaign Ukraine
In Ukraine, thousands of Jewish elderly live in great poverty. Often lonely and in remote places. As Christians for Israel, we have been distributing food parcels to Jews in Ukraine for years each winter. As you will understand, this year will be a little different compared to previous years…
In spite of all the uncertainty surrounding the situation in Ukraine, we cling to the certainty that God is continuing His plan with His people. Therefore, we continue to:
provide food aid to the Jewish communities;
evacuate Jews from eastern Ukraine;
provide a shelter for Jewish refugees;
and help Jews return to Israel.
We don't know how food supplies will be affected this winter. Therefore, we are stockpiling emergency supplies in order to meet the many requests for help. In total, we hope to distribute over 40,000 food parcels (over 400,000kg) this winter.
It is a comfort and encouragement to the Jewish people that we have the opportunity to do this. Will you help make this work possible, with your gifts and prayers?
Warm greetings on behalf of the entire Christians for Israel team in Ukraine,
Koen Carlier
Aliyah Fieldworker Ukraine
Food Parcel Campaign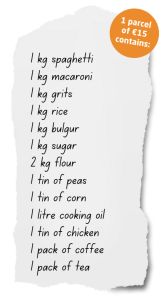 The food parcels brought by the Christians for Israel team in Ukraine are very much needed to get through the harsh winter and especially since food prices are going up. This winter in Ukraine, we hope to distribute 40,000 food parcels to poor Jewish families and Holocaust survivors.
One food parcel costs € 15 | US$ 15. Please donate one or more parcels!
Whoever oppresses the poor shows contempt for their Maker, but whoever is kind to the needy honors God.'

Proverbs 14:31

Anna Kreiser (Holocaust survivor):
"I lived a long life, experienced a lot of tragic moments, but my heart cries when I think of what is going on now… This war in the 21st century, as any other war, is just terrible. So much grief, but in the midst of darkness there are people like Christians for Israel who do not stop no matter what and continue to help and support Jews in Ukraine! Your food parcels are such a support and blessing to us! Thank you very much!"
Ludmilla Balaban (67):
"Thank you very much for supporting us at this difficult time for everyone. It is good to know that we are not alone and there are people who think about us. These food parcels are very important and will help to live through winter months."