Support Israel
FH Update – At the Top of the Mountain
Aliyah is also about going up. We don't say we come to or move into Israel. We make aliyah, which means going up to the Land of Israel. For our participants from kibbutz Ma'ale Gilboa it was literally so. The settlement is located on the very summit of Mount Gilboa in the North and you have to go up in order to reach the kibbutz. We can translate the name "Ma'ale Gilboa" from Hebrew as "Gilboa Ascent".
"We make aliyah, which means going up to the Land of Israel"
This religious kibbutz joined the FH-program in 2022.  When it happened, we had a difficult task ahead of us – to find three families and to accommodate them in this religious environment where they were not allowed to have barbeques or drive around the kibbutz on Shabbat. Of course, many of them were observing Jewish traditions and celebrating Jewish holidays before, but they have never had such experience of living in a religious kibbutz.
One of the families who "went up" on Gilboa Mount were Anton and Irina from Russia. They made aliyah with two children and joined the group in the Emek Hamaayanot Regional Council.
Anton holds a PhD degree, he used to work as a journalist and university professor.  Irina worked as a journalist and an exhibition projects curator. Both of their daughters studied at the gymnasium.
This is what they are saying about their aliyah. "We made aliyah this spring. Honestly, we pulled out the lucky ticket when we applied for the "First Home in the Homeland" program. We found ourselves in a wonderful place and met wonderful people there. It was very symbolic to start the new life in the kibbutz with such a telling name.  From the first day we were surrounded with care and attention by its kind dwellers. Our coordinators were in touch with us 24/7. It helped us not only complete our Ulpan successfully but also develop some educational projects. Anton has been on expeditions 5 times, visiting the South Pole, North Pole, and Antarctica. Anton shared this experience with children from the local school. Many of them had never seen snow before.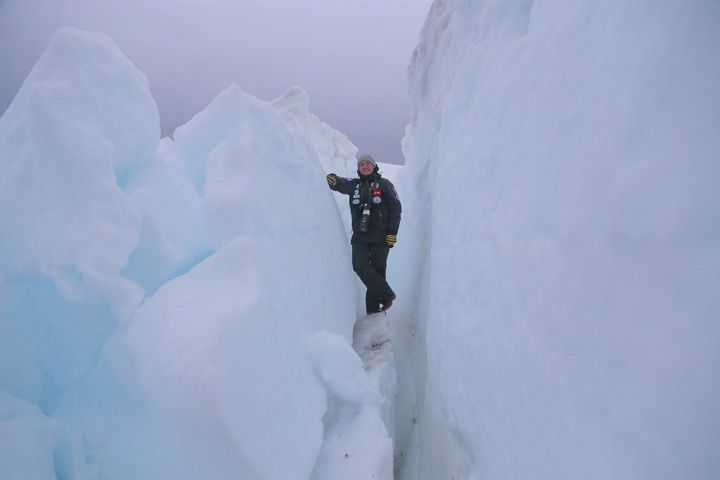 Besides, we arranged a touching exhibition of children's drawings for locals and olim, pinned up right on the wall of our caravan. Someone drew a mother. Someone a unicorn while another depicted Cheburashka (the favorite children's cartoon character from the Soviet Union period). We hope that other kibbutzim in this region or Israel will join the project. We will be happy to share our experience in organizing the gallery. And we continue our going up, looking for new friends to realize all our creative ideas! Thank you for our soft landing here!"
There is one interesting fact that the TV-series about Cheburashka were created by the Jewish team from the Soviet Union who had lost their relatives during World War II. Moreover, according to the legend, Cheburashka was delivered to the Soviet Union in the box of oranges while Israel was the main provider of this fruit then. And now many years later olim children depicted him on the wall of the caravan in the small kibbutz in the North. As if he himself had returned to his Homeland.
When we face a coincidence like this, we understand clearly that nothing happens by chance. All Jews around the world have strong bonds with their roots, and we hope that once all of them will go up to the Promised Land to start a new life.
Please support the "First Home in the Homeland" Project. Any amount is welcome!
Assisting a family in the "First Home" program costs € 230 euro / US $ 250 a month.
Support in €
Support in US $