Support Israel
FH Update – From Kolkhoz to Kibbutz
The wonderful story shared this time was found and written by FH-participant Nikita Aronov. He made aliyah with his family from Moscow in May 2022, two months after the war broke out. Now he lives in kibbutz Lotan in the South of Israel. This Autumn another family from the former Soviet Union joined the "First Home in the Homeland" program in Lotan. Alexander, Vitalia and their son Mark moved to Israel from Mogilev, Belarus  (this year we welcomed many Belarusian families). Alexander told Nikita his family story and Nikita carefully wrote it down for us.
Little Rosie was the only child from the small Jewish collective farm called "kolkhoz Iskra" in Belarus, who survived the Nazi occupation. Her dad was murdered, her birthplace was turned into a ghetto. Against all odds many years later her family eventually "returned" to the "kolkhoz" but this time in Israel. Rosa's grandson Alexander, who joined the "First Home in the Homeland" program in October 2022 told us this wonderful story.
Rosa still lives in Belarus. Today, the place where she was born is part of a tiny town of Shklow in the Mogilev region, but in those days, it was an agricultural Jewish commune (collective farm) with its own livestock, fields and a big orchard. Alexander's great-grandfather (Rosa's dad) was the head and co-founder of that commune.
"My father Moisey (Moses) Rathizki and his friends moved there from Gomel. They dreamt to establish an agricultural commune on that site. And so they did," Rosa recalls. My father's photo could even be seen at the main agricultural exhibition in Moscow (VDNH). Unfortunately, I can't remember his face. I remember only the shadow. I was too small."
"When Rosa was only 4 years old the Nazis invaded the Soviet Union on June 22, 1941. It was the day when Rosa's mom Basya decided to escape"
She was only 4 years old when Nazis invaded the Soviet Union on June 22, 1941. All the men from "Iskra" gathered in the local square near a homemade metal gong that was used to call people for work. "War" was the word which echoed thousands of times. It was the day when Rosa's mom Basya decided to escape.
"Was it a kind of premonition? I don't know, says Alexander, "But she was determined to leave the place immediately unlike her husband, who was reluctant to do that. He was responsible for the farm and was going to hide or destroy tractors and other equipment so that it would not fall into the hands of the enemy. And he stayed there with his eldest son. Basya took my grandmother Rosie and an old basket for mushrooms. It was all her luggage. And then there was a month-long barefoot march eastward. To survive, they traded head scarves and other belongings for food. Sometimes they also asked for alms. When Rosy got exhausted, Basya kept on going carrying her on her arms. In late July, they found a shelter in the Dosugovo village, Smolensk region, Western Russia.
Although the refugees introduced themselves as Russian and by Russian names, the locals immediately identified them as Jews.  Nevertheless, they were heartily welcomed into the large Russian family of Praskovya Khonabyeva. She was the mother of 8. Some of them were already adults and served in the Red Army. One of the youngest, Lucy, was almost of the same age as Rosa. They became friends for life.
The Dosugovo village had been occupied by the enemy for two difficult years. Luckily, the soldiers weren't cruel and never offended the girl. The bigger problem was posed by the collaborators from the Hilfspolizei (auxiliary police force of Nazis). When those troops were expected in the village, the villagers did their best to hide Basya and Rosa in a dugout on the hillside. It was risky for all the villagers, but nobody betrayed the refugees.
"There were many Hilfspolizeis in that district before liberation in September 1943. They followed the Nazis' army in a long column of horse-drawn carts,"  Rosa says. "I still remember the liberation day. The village's only street was a part of a motorway. It was crowded with Soviet troops and army trucks. All the villagers lined up on both sides of the road to greet soldiers and treat them with a piece of bread or a glass of honey."                      
Basya and Rosa Ratnizki were the only Jews from "Iskra" who were saved. The Nazis turned that collective farm into a ghetto for locals and people from nearby villages. In the autumn of 1941, almost all the Jews of Shklow (a quarter of the town's prewar population) were exterminated. They were killed and buried in abandoned trenches and shell craters.
"Basya and Rosa Ratnizki were the only Jews from "Iskra" who were saved"
"Iskra" was almost empty, but Rosa's family house was intact, and she would spend her summertime there until 1990 when the old building was replaced by a new one. And she was the only Jew in modern "Iskra".
Rosa has lived a long but hard life. She worked as a builder and as a teacher at a construction college. She had moved to the Ural but returned to Belarus. And she never lost touch with her rescuers. Praskovya Khonabyeva died in 1952, Lucy – in 2019. In the year 2000, family members were awarded the title of Righteous Among the Nations.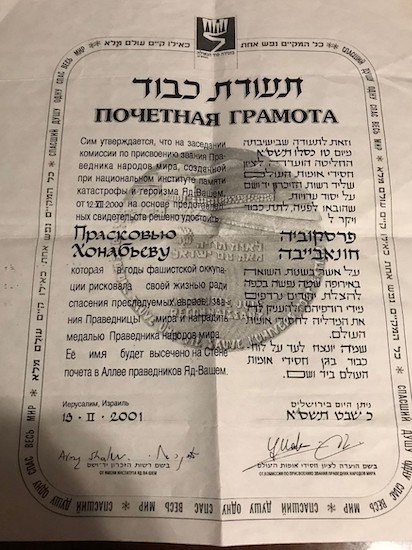 Due to the wave of antisemitism even after the fall of the Nazis, Rosa couldn't keep the Jewish traditions. Sometimes she had to conceal her nationality.
"I have four grandchildren, but only Alexander feels he's a Jew", Rosa says.
"I've never met my great-grandmother Basya", sighs Alexander, – "but I'm often thinking about her desperate decision that saved my granny's life. I owe my life to that move. I am also impressed by the bravery of Praskovya, who put at risk her entire large family for saving two Jewish strangers".
This October, Alexander made aliyah under the "First Home in the Homeland" program and was accommodated in kibbutz Lotan in the South. After two generations the family returned to a Jewish agricultural commune.
Please support the "First Home in the Homeland" Project. Any amount is welcome!
Assisting a family in the "First Home" program costs € 230 euro / US $ 250 a month.
Support in € 
Support in US $