Support Israel
FH Update – Olim from Kibbutz Zeelim
"But the more they were oppressed, the more they multiplied and spread… " (Exodus 1:12).
Finally, they are here!
We recently received a lovely picture from our coordinator Snezhana, who welcomed eight families in Eshkol Regional Council in October. This photo with a short description on it was published in the local newspaper of kibbutz Zeelim under the title "Welcome – First Home in the Homeland!"
"G_d gathered them in the South of Israel in these very turbulent times"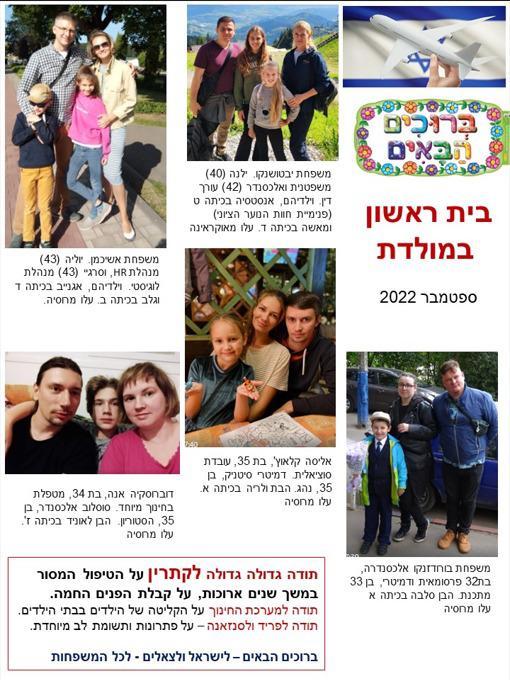 All the families on the picture have different social and family backgrounds, places of birth, history, as well as different but arduous journeys to their homeland. However, G_d gathered them in the South of Israel in these very turbulent times.
They were heartily welcomed in kibbutz Zeelim by their coordinator Katrin. She came to Israel from France many years ago and, despite her advanced age (she is 83 years old) she is helping newcomers like a second mother. Thanks to her, many families started their happy lives in Israel. And we hope the same future awaits the families who have joined us this autumn.
Here are some stories of their aliyah.
Oleksandr (42 y.o.), Olena (40 y.o.), Anastasia (15 y.o.), Mariia (9 y.o.) from Ukraine.
This family of four fled the war in Ukraine and lived as refugees in Slovakia since April 2022. So, the way home took them more than 6 months. They got in touch with us and were accommodated in kibbutz Zeelim immediately after their arrival in Israel.
"We didn't have all the necessary documents , so we had to stay for a while in Slovakia and get visas"
"We have been thinking about making aliyah for several years. But the war forced us to do it much faster. We didn't have all the necessary documents at that time, so we had to stay for a while in Slovakia and get visas there. Fortunately, we managed everything in time and joined the "Fist Home in the Homeland" program. We chose this program because our main goal was to learn Hebrew in a comfortable environment, and it was truly a "soft landing!"
Oleksander and Olena have already started their Hebrew class, Mariia attends a local school while Anastasia has been enrolled on a boarding school in Jerusalem.
Aleksandra (32 y.o.), Dmitry (33 y.o.) and Rostislav (7 y.o.) from Russia.
Aleksandra with her family and a little cat left Russia not only because of the current situation but most of all because of her strong bond with Jewish ancestors who suffered a lot during World War Two. "My great grandmother Nichama fled from Bobruisk with her daughter and absolutely nothing before the city was captured by the Nazis. Her first husband was murdered, and she stayed alone with her grief. But after two years she met her second love – my great-granddad. They had a daughter – Berta, my grandmother, who was born in 1945 when the War ended", Aleksandra recalls.
Alexandra always knew about her roots and was very proud of them. She attended a Jewish school, the emblem of which was designed by her dad. That strengthened her faith in the possibility of returning to the Promised land.
Every day we listen to different stories from olim and learn about different reasons for their making aliyah. They believe they need to do that because they want to change something or for a better life in their hometown. But after arriving here they feel the real thing – they are finally home for good!
We believe that all these olim will find their place in the new country. Will learn Hebrew, will get a good job and their children will make new friends. And "First Home in the Homeland" will be a good start for their great deeds wherever they are!
Please support the "First Home in the Homeland" Project. Any amount is welcome!
Assisting a family in the "First Home" program costs € 230 euro / US $ 250 a month.
Support in €
Support in US $