News
Liveblog: Israel under attack – Pray for Israel!
We are deeply shocked by Hamas' unprecedented and bastardly war of terror against Israel.
Our hearts bleed when we think of the many dead, injured and hostages, including mothers with young children, teenagers, soldiers, the elderly and Holocaust survivors.
We ask you to pray with us and therefore we have compiled Prayer points.
Praying together has the power to change situations and bring hope in the midst of this terror!
UPDATES
Oct. 27, 22.20 (CET)
Update from our correspondent Yochanan Visser in Israel
Northern front
Around six o'clock this evening, Hezbollah launched several rockets toward northern Israel. However, the projectiles fell on Syrian territory. Soon after, the airspace in northern Israel was filled with the roaring sound of fighter planes and Apache helicopters. At the time of writing this update, no details are known about the nature of the IAF actions.
Fourth front in Red Sea region
The Israeli military just announced that the Israeli Air Force is responsible for the interception of an unmanned aerial vehicle (UAV) flying from Yemen toward Eilat this morning. The Ansar Allah or Houthi militia in Yemen has so far carried out three attacks with UAVs and cruise missiles on the far south of Israel. Today's two attacks failed: the rockets and UAVs hit Egyptian beach resorts.
Front in Judea and Samaria
Last night, the IDF killed Ayser Mohammed al-Amer, a top commander of Palestinian Islamic Jihad in Samaria, during a raid on the Jenin refugee camp. PA news agency WAFA reported that a total of four Palestinian Arabs were killed during the IDF action. A firefight between the IDF and armed Palestinian terrorists took place in the town of Qalqilya. The Israeli army announced today that 36 wanted terrorists were arrested in Judea and Samaria during the past twenty-four hours. Among them were seventeen Hamas members. The actions of the IDF have so far ensured that the situation on this front is under control. The IDF also blew up the home of Hamas leader Saleh al-Arouri in Samaria. A total of 1,030 wanted terrorists have been arrested since the war began, including 670 Hamas members.
Gaza front
Israeli attacks on Gaza are increasing in ferocity. Hamas reported on its Telegram channel that there is currently the "biggest bombardment ever." Hamas also claimed that the Internet and other communication channels in Gaza have been cut off.
An IDF spokesman confirmed tonight that the Israeli army is intensifying its attacks in Gaza. This came after rocket attacks on Israel also increased in intensity again. Tel Aviv and other central cities were again bombarded with rockets in the early evening. In the city of Rishon LeZion, a civilian was seriously injured by an incoming rocket from Gaza.
The Palestinian telephone company in Gaza issued a message this evening informing the public of the destruction of the remaining telecommunications infrastructure in Gaza. It is unknown whether this message reached subscribers because, according to Hamas, the lines had, after all, been cut off. Hamas also claimed today that 50 hostages had been killed in IAF bombings of Gaza. However, this usually means that the terror organization executed the hostages. Hamas also published today a list of the photos and names of thirty-four journalists who have allegedly died in the Gaza Strip since the beginning of the war. Everything shows that Hamas is following the discussions in the international community about IDF actions in Gaza and trying to manipulate opinion.
The IDF provided evidence this afternoon that the largest hospital in Gaza is still being used as Hamas headquarters. The hospital in question is Shifaa Hospital, which has housed Hamas headquarters since the first war between Hamas and Israel. The 1,000-bed hospital has a large underground section that is used in its entirety by Hamas for terrorist activities. The Israeli military also published a telephone conversation with a Shifaa employee who confirmed that the hospital is being used by Hamas as its headquarters.
Hamas is also lying about the alleged shortage of fuel in Gaza. During a telephone conversation by an IDF officer with a Palestinian Arab working in the fuel industry in Gaza, it was revealed that there is no shortage of fuel in Gaza. At least, not for Hamas, which, according to the man, has millions of gallons of fuel at its disposal. The man also confirmed what I reported earlier: Hamas has a large supply of fuel stored in hundreds of gas stations in Gaza.
The Israeli Navy has now also stepped in to destroy Hamas' maritime unit. The Israeli Navy's Sayetet 13 unit attacked Hamas maritime targets last night. This special unit took action earlier in 2009 against the Turkish ship Mavi Marmara, which was then en route to Gaza with a group of IHH terrorists on board. The IHH is the Turkish equivalent of Hamas.
Oct. 27, 16.45 (CET)
Oct. 27, 13.30 (CET)
'Lights of Hope' illuminate Jerusalem sky, one bulb for each hostage in Gaza
The "Lights of Hope" exhibit on Thursday night in Jerusalem served as a symbol of solidarity with the hostages being held by Hamas in the Gaza Strip, aimed at raising international awareness of their plight.
Representatives of the captives' families took part in the inauguration event, which was sponsored by the Jerusalem Municipality, via the Ariel Company, at Pais Arena Square (formerly the Jerusalem Arena)
The display consists of 224 light bulbs, corresponding to the number of captives held by Hamas, and covers an area of about 1,000 square meters. The floodlights illuminate the sky in different colors for 224 seconds and will continue to do so multiple times each evening. Next to each bulb is an image and name of each captive.
The number of light bulbs and duration of their illumination will be adjusted according to the number of captives who have been returned. Uri Menachem, CEO of Ariel Company, said "the 'Lights of Hope' exhibition from Jerusalem conveys a message to the world to unite around the effort to bring all the captives back home in peace. The people of Israel do not forget, even for a moment, the 224 beacons of light held captive in Gaza."
Oct. 27, 12.10 (CET)
Update from our correspondent Yochanan Visser in Israel
Gaza
Yesterday, the Israeli Air Force continued its air strikes on Hamas targets in Gaza. According to The New York Times, seven thousand targets in Gaza have been attacked since the war began on 7 October. The often anti-Israel newspaper called the series of bombings "one of the most intense of the past century". This, of course, is not true because the Allies completely bombed German cities during World War II, and the U.S. carried out similar bombings in Iraq and Afghanistan after 9/11.
The Israeli Air Force also liquidated two top Hamas commanders yesterday. They include Shadi Barud, deputy head of Hamas' intelligence service. Barud was the one who planned invasion, along with Yahya Sinwar the leader of Hamas in Gaza. The other Hamas commander eliminated in an Israeli airstrike was Hassan al-Abdallah, who led the rocket unit in the southern Gaza town of Khan Younis.
Last night, the IDF further announced that it, along with Shin Bet and AMAN military intelligence, liquidated three more Hamas commanders. These were the top command of Hamas' Draj Tafah battalion, which also participated in the October 7 atrocities.
The IDF also announced yesterday that ten bodies of missing Israelis have been found in the ground operations conducted so far in Gaza. Bodies are still being found daily and missing persons are being traced who appear to have been kidnapped. This explains why the number of detainees continues to rise. There are now constant reports of negotiations for the release of another 50 Israelis held hostage. These are said to be children, women and very elderly Israelis. The demands for the release, according to these unconfirmed reports, range from full resumption of Israel's delivery of all necessary supplies to Gaza, cessation of all attacks on Gaza, and the release of five thousand Palestinian terrorists imprisoned in Israeli jails. Qatar would again be involved in these negotiations with Hamas.
The approximately one hundred thousand evacuated Israelis and the families of those killed are being helped by an army of 15,000 volunteers. Many of these volunteers were active in anti-government protests before the war because of proposed reforms to the judicial system. The organizing committee of these demonstrations included stone-rich Israelis who built their wealth in the high-tech sector. They are now funding the largest private initiative in the relief industry in Israel's history. The volunteers have been working out of the Expo Tel Aviv International Convention Center and have been doing so since 7 October. They helped eight thousand civilians find shelter and organized a thousand events for evacuated children. The ad hoc organization provides meals, clothing, toys for children, diapers for babies and all sorts of other necessities to their affected fellow citizens. The high-tech experts among the volunteers also help locate the hostages in Gaza. Led by Professor Karine Nahon, the two thousand high-tech volunteers are identifying missing persons by using Artificial Intelligence (AI) and the videos published on social media. They also use so-called algorithms to find out where missing persons are. These volunteers are now working with state agencies.
Last night around 6 p.m. another barrage of rockets was fired from Gaza at central Israel and Ben Gurion airport. This now seems to be becoming routine and probably has to do with the fact that it is rush hour then.
Northern front
Arab media reported yesterday that Shiite militias in Syria have now taken positions in the Golan Heights kilometers from the border with Israel. These militias were brought to Syria by Iran, which itself has virtually no Shiites among its Muslim population. The liquidated commander of the Quds Brigade of Iran's Islamic Revolutionary Guard Corps, Qassem Soleimani, was responsible for building up a force of Shiites who later formed the Golan Liberation Brigade. This brigade numbers 100,000 fighters.
Hezbollah again attacked an IDF position on the border with Israel yesterday afternoon with an anti-tank missile. The IDF used a drone to take out the terror cell. Hezbollah has so far used anti-tank missiles almost exclusively for its attacks on northern Israel. This tactic was explained by Ibrahim al-Amin, the editor-in-chief of Hezbollah-affiliated newspaper al-Akhbar. He wrote that Hezbollah almost exclusively attacks IDF observation posts. According to al-Amin, the Lebanese terror movement wants to "blind" the Israeli army to the next phase of the war.
Oct. 25, 21.09 (CET)
Update from our correspondent Yochanan Visser in Israel
Gaza
There was an increase in rocket fire from Gaza again this afternoon and early evening. After terrorists in Gaza tried to hit the port city of Haifa with a long-range rocket, which incidentally missed its target, an attempt was made to terrorize Eilat. A long-range rocket was fired at the southernmost Israeli city late afternoon, but it missed its target too. Tonight, the air raid alert went off in several towns in southern Israel. Another rocket was also launched toward the city of Rishon LeZyon in central Israel. The town of Ashqelon was also repeatedly strafed since early afternoon. The IDF home front command has ordered civilians in the Gaza border area as well as those in Ashqelon and Ashdod to remain in shelters until further notice.
It was also announced today that five hundred of the 2,900 Hamas terrorists who took part in the massacre in southern Israel on 7 October had undergone combat training in Iran weeks before the attack. The Wall Street Journal in the United States got this information from anonymous officials of unnamed intelligence agencies.
Prime Minister Benjamin Netanyahu appeared on primetime News TV tonight. He assured the Israeli public there is a unanimous cabinet decision about the date and start of the Gaza ground operation. He also said there will be a thorough investigation into the failure of the intelligence apparatus and the army on 7 October once the war is over.
UNRWA has now threatened to stop its work for the Palestinian population in Gaza starting tomorrow. Israel must immediately start delivering fuel to Gaza, INRWA said in a statement. As Hamas has large fuel reserves, that's not very likely to happen. Israel does not want to return to the pre-war situation. As long as Hamas is in power in Gaza, there will be no deliveries to Gaza except water.
American pressure?
Reports keep coming in about postponement of the IDF ground operation in Gaza, due to an American request. The United States reportedly want more time to transfer more weapons and troops to the Middle East. The Americans currently have a fleet of 37 warships in the Middle East, including three aircraft carriers. Several squadrons of fighter aircraft have also been flown over to the Middle East.
Earlier this week, it was claimed that the Americans wanted a delay or even cancellation of the ground operation because of the foreigners among the hostages. It was also claimed that the IDF would not be ready for such an operation. Such reports should be taken with a grain of salt until official confirmation.
Since 17 October, there have been 13 attacks in Syria and Iraq against U.S. troops stationed there. Most of these were attacks by unmanned combat aircraft. It is clear, that Iran is behind these attacks carried out by Shiite militias in both countries.
The US has now transferred its entire stock of Iron Dome batteries to Israel and is still continuing the airlift that has already brought more than 50 aircraft full of weaponry and munitions to Israel. All these developments are creating a sense in Israel that something big is about to happen and what we have seen so far is only the prelude to a regional war.
Northern front
Israeli warplanes again bombed the runway of the Aleppo Airport in northwestern Syria this afternoon. This was the fourth time in a month that the airport was bombed. The Aleppo or Hama airport is used by Iran to supply arms and ammunition to the militia in Syria. Iran is also engaged in an unprecedented troop buildup and arming of its allies in Syria and elsewhere in the Middle East.
This afternoon, antitank rockets were fired again from Lebanon at IDF positions near the cleared town of Kiryat Shmonah. The IAF then bombed Hezbollah positions in southern Lebanon.
Oct. 25, 16.00 (CET)
Palestinian Media Watch founder and director Itamar Marcus was interviewed on CBN News. In this wide-ranging interview, Marcus provided analysis of the present war in Gaza, explaining that Abbas' PA and Fatah support, celebrate, and call for joining Hamas' terror atrocities against Israel, and where we go from here.

Oct. 25, 15.15 (CET)
A blog from Yoel Shukkmann
Oct. 25, 13.45 (CET)
Update from our correspondent Yochanan Visser in Israel
Last night, the IDF carried out actions on four fronts against terrorists belonging to the so-called Iranian resistance axis.
Syria
On Tuesday evening, the air raid alarm went off in Israeli villages in the Golan Heights: two rockets had been fired from Syria into the Golan Heights. The rockets fell in open territory and caused no damage. The Israeli Air Force responded by attacking targets belonging to the Syrian army (with warplanes). Artillery was also fired at the site from which the rockets were launched. Syrian state-controlled media reported that six Syrian soldiers were killed in the IAF attacks. The IAF also scattered pamphlets over the Kuneitra area and Da'ara province in southwestern Syria. In those pamphlets, the IAF warned Palestinian terror groups in Syria and the Syrian army that they bear full responsibility for "all acts of sabotage taking place from Syrian territory". The pamphlet also stated that the Israeli army would respond with 'an iron fist' to terror from Syria. "You have been warned" was the last sentence of the pamphlet.
Lebanon
Last night was relatively quiet on the front with Hezbollah in Lebanon. The IDF intervened only once against a Hezbollah terror cell in the Har Dov area east of Kiryat Shmonah. A group of Hezbollah terrorists was about to fire an anti-tank missile toward Israel. Hezbollah later announced that two members of the cell had been killed by the IAF. This raised the death toll among Hezbollah ranks to thirty-nine since the war began. Hezbollah leader Hassan Nasrallah made his first appearance after meeting in his bunker with Hamas deputy commander Saleh Arouri and leader of Palestinian Islamic Jihad Ziyad al-Nakhalah. The meeting was aimed at coordinating the activities of the various terror movements in the Iranian axis, according to the Hezbollah-affiliated Al-Mayadeen TV channel. As I reported on Tuesday, the terrorist activities of all terror groups now operating on four fronts are overseen by Ishmail Ghani, the commander of the Quds Brigade of Iran's Islamic Revolutionary Guard Corps.
The latest news on the front with Hezbollah in Lebanon is that the IAF prevented another missile attack. According to the IAF, all members of this terror cell were killed.
Front in heartland of Israel
The Israeli army also returned to action last night against terrorists in the town of Jenin in northern Samaria. In Jenin, an unmanned IDF aircraft fired on four terrorists who shot at a unit of border police and the IDF's Haruv elite unit. IDF soldiers also killed a terrorist who attacked them at the Qalandia checkpoint north of Jerusalem.
Gaza
On Tuesday evening, a Hamas naval unit attempted another infiltration near kibbutz Zikim just south of the town of Ashqelon. Hamas divers swam to the shore opposite Zikim, but were discovered in time by IDF soldiers. In the ensuing firefight, a number of Hamas terrorists were killed (2 to 10). The infiltration caused panic among residents of Zikim and neighboring kibbutzim.
During the night from Tuesday to Wednesday, the IAF again conducted dozens of airstrikes against military targets in Gaza. Video recordings of these attacks clearly show that precision rockets were used. In one attack, Taysir Mubasher, the commander of Hamas' northern battalion Khan Yunis was killed. Mubasher was responsible for establishing Hamas' diving unit, and organizing a terror attack in 2000 on students at the Atzmona Mechina pre-service school that left five dead in. He was considered the number two in Hamas' military apparatus behind Mohammed Deiff.
At 11.00 am this morning, another air raid alarm went off in the port city of Haifa in northwestern Israel due to a rocket from Gaza.
The war that began on 7 October is costing the State of Israel 220 million euros a day. The recently approved budget is 'no longer relevant' according to Finance Minister Betzalel Smotrich. However, he did not expect the national debt to skyrocket sharply. Smotrich is using the budgets of minor ministries such as Diaspora Affairs and the recently closed Ministry of Information to cover the deficits for now.
Oct. 24, 21.25 (CET)
Update from our correspondent Yochanan Visser in Israel
Gaza
This morning, I reported on a relative calm in central and southern Israel, where the air alert had not gone off for hours. Around 5 pm, however, that 'calm' came to an end when Hamas and Palestinian Islamic Jihad fired the largest rocket salvo since the October 7 War began. The rockets targeted central Israel, reaching villages and towns as far away as the seaside town of Netanya. In the village of Alfei Menashe in Samaria, a house received a direct hit. Although the residents, a 70-year-old man and his two sons, were at home, they had fled to the private bomb shelter. This room made of thick reinforced concrete was the only part of the house that remained standing. Two other rockets wounded three people in the city of Holon and in Tel Aviv. A fourth rocket exploded in the town of Rishon LeZyon, where some schools had just reopened earlier today.
Hamas propaganda and the UN
Meanwhile, the media and part of the international community have become obsessed again with Israeli counterattacks on terror targets in Gaza. The IDF reported today that it had bombed 400 targets in the enclave over the past 24 hours and killed five Hamas commanders. Hamas claimed today that more than seven hundred civilians (!) had been killed in those attacks and that more than five thousand Gaza residents had been killed since the air strikes began. In the past, however, Hamas's figures have always proved completely false and intended to incite the world community against Israel.
At least one world leader has fallen for the Hamas propaganda. UN Secretary General Antonio Guterres gave a speech to the UN Security Council in which he said the following: "It is important to recognize that the Hamas attacks did not occur in a vacuum. The Palestinian people have been subjected to an oppressive occupation that has lasted for 56 years (Gaza has not been 'occupied territory' since 2005, YV). They have seen their land steadily swallowed up by settlements and plagued by violence, their economy squeezed, the population displaced, and their homes destroyed." The Secretary General did add that these grievances cannot justify Hamas' disgusting attacks.
In Israel, however, people are totally done with Guterres and the United Nations. UN Ambassador Gilad Erdan called the speech 'shocking' and said Guterres is completely out of touch with reality. The UN top diplomat views the massacre carried out by Nazi Hamas terrorists in a "completely distorted and immoral way," Erdan said. Foreign Minister Eli Cohen canceled his scheduled meeting with Secretary General Guterres. Cohen was in New York with some families of Israelis kidnapped by Hamas and hoped for UN's understanding about Israel's extremely dire situation.
Guterres' stance on the war with Hamas contrasted sharply with the statements of French President Emmanuel Macron. The latter said, after his meeting with Prime Minister Benjamin Netanyahu, that France would advocate extending the war waged by an international coalition against ISIS, to Hamas. Macron believes that "the threat of Hamas is a matter of existence for everyone."
Northern front
This afternoon, Hezbollah also resumed its attacks on northern Israel. Kibbutz Manara, just south of the cleared town of Kiryat Shmoneh, was targeted with an anti-tank missile. The IDF again responded with artillery shelling. This rocket attack followed an earlier attack with the same weapon on the village of Shetula in the border region with Lebanon. As if by a miracle, there were no injuries in either case. In all, the IDF attacked three Hezbollah cells that fired anti-tank missiles at northern Israel.
Iran
The commander of the Quds Brigade of Iran's Islamic Revolutionary Guard Corps, Ishmail Ghani, is currently in Syria directing the war against Israel from Damascus. Ghani sent a report to Iran's Supreme Leader Ayatollah Ali Khamenei on Monday, calling for the expansion of the war against Israel. A Khamenei confidant then said Iran should open new fronts in Syria and central Israel. By this, he meant Judea and Samaria, where Iran is constantly trying to better organize Palestinian violence. Iran is also reckoning with an expansion of the war following intervention by the U.S. military, according to the source who spoke to media in Kuwait.
Ghani has now received the green light from Khamenei and an open budget to open these fronts. Because of the threat of terrorist attacks to Jewish communities in Judea and Samaria, the IDF has brough in reinforcements. The communities also received additional resources to further enhance security.
Oct. 24, 16.25 (CET)
Update from our correspondent Yochanan Visser in Israel
On Monday night, two more prisoners were released by Hamas. The release of Nurit Cooper (79) and Yocheved Lifshitz (85) was again brokered by Qatar, a huge financial supporter of Hamas. Top leaders of Hamas also reside in Qatar.
Turkey is another country where Hamas leaders found shelter, but those days seem to be over. President Erdogan is furious about Hamas' lie regarding the rocket that hit a Gaza hospital last week. This lie caused great unrest in Turkey, where thousands participated in often violent demonstrations against Israel. The Turkish leader now wants the Hamas leaders to leave.
One of the two released women told the news that she had been taken to Gaza on a motorcycle while being beaten. The woman also told she had to walk through 'wet tunnels' for hours with, as it turns out, broken ribs.
Interrogation of a Hamas terrorist
Israel's internal security service Shin Bet published an interrogation of a Hamas terrorist today who took part in the massacre on 7 October. The man said Hamas had ordered him to kill women and children. "In mosques they tell you to have compassion for the elderly, women and children, and in the army (Hamas) they instruct you to kill them," the captured terrorist said.
He then revealed that Hamas had instructed the thousands of terrorists who carried out the invasion in southern Israel to carry out beheadings and chop off limbs. 'Hamas is the same as Daesh, the Arabic acronym for ISIS', according to the man. "Hamas became Daesh, they lost their minds and became inhumane." He also told his interrogators that they had raped dead bodies of women. 'Did that really happen?', the Shin Bet agent asked, to which the terrorist confirmed that the dead bodies of young women had been raped.
Gaza Ground Offensive
There is much speculation in the media now about the ground offensive into Gaza the IDF is preparing This speculation was started by The New York Times, which relied on the opinion of Democratic leaders known to be critics of Israel. Israel would not know how to conduct a ground offensive in Gaza and would not have an exit strategy. Also, the IDF would still not be properly prepared for such an offensive. It seems one wants to deter Israel from an all-out attack on Hamas to end the terror regime in Gaza. However, everything shows that the Israeli army is ready to enter Gaza.
Humanitarian aid to Gaza
It has become clear that humanitarian aid to Gaza is playing a role in prisoner release negotiations. Again, this morning, 17 trucks carrying aid supplies went into Gaza through the Egyptian Rafah border crossing. Hamas, however, wants more and is also demanding fuel deliveries. The terror movement claimed that surgeons in hospitals operate on children by candlelight. This too is part of the propaganda aimed at mobilizing the media and the world community against Israel. In fact, there is no fuel crisis in Gaza. Hamas has built a huge number of 'gas stations' for the small fleet of vehicles in Gaza. On the grounds of these gas stations are large underground storage tanks that serve as fuel supplies in times of need. These tanks contain millions of gallons of fuel. The IDF is in possession of satellite photos showing the construction of underground fuel tanks.
Fewer rockets
Meanwhile, the number of rockets fired to Israel from the Gaza Strip has decreased significantly. In the city of Ashkelon, residents told me that there had been no air alert for hours. A Dutch Israeli woman in Rishon LeTzion wrote on her Facebook page that some schools in the city have reopened. Hamas is apparently holding back its remaining rocket arsenal once Israel starts its ground offensive.
The Americans have now sent a group of army veterans who fought in Iraq and Syria against ISIS to Israel to advise the IDF on urban warfare. These officers led battles against ISIS in the city of Mosul in Iraq and Raqqa in Syria, which was the capital of the Islamic State. Those battles took weeks to months as civilian populations were present in the cities.
The IDF will almost certainly not apply the American Fallujah model in Gaza. This city in Iraq was the scene of two battles against al-Qaida and later ISIS and was razed to the ground by the U.S. military in December 2004. The U.S. was able to do so because the civilian population was evacuated first.
Oct. 24, 12.48 (CET)
The Arab IDF account on X (formerly Twitter) shared a message with two aerial photos showing 12 oil tanks hidden in the ground near the Rafah border crossing, in the southern Gaza Strip.
"This is what more than half a million liters of diesel oil looks like," writes Arab IDF spokesman Avichay Adraee, "while Hamas continues to claim it does not have enough fuel to support hospitals and food production."
"Hamas-ISIS steals this fuel from civilians and transfers it to its tunnels, rocket launchers and leaders. This is what Hamas' priority list looks like," he continued. "Residents of Gaza, the address for your complaints is not Israel. It is Yahya Sinwar, Muhammad Deif and other Hamas-ISIS members who have pushed Gaza into this abyss."
Oct. 24, 10.43 (CET)
Update from our correspondent Yochanan Visser in Israel
Northern front
Yesterday, the tension in northern Israel continued to rise. This happened after Hezbollah sent an unmanned aerial attack vehicle (UAV) into Israeli airspace near the city of Akko. The UAV, which was directed over the sea from Akko to kibbutz Ein Hamifratz, was then shot down by the IDF with the Iron Dome anti-missile system. This UAV attack followed another incident in which a drone flew into Israeli airspace from southern Lebanon. The UAV was shot down with a rocket, according to an IDF statement.
Then, late in the afternoon, a rocket attack on the Har Dov area east of the town of Kiryat Shmoneh was prevented by the IDF. An unmanned attack aircraft of the IDF took the terrorists under fire and eliminated them. Throughout the day, warplanes were in the skies over northern Israel and the sound of UAVs guarding the skies over Israel was heard.
During Monday night, the IDF carried out UAV attacks on two Hezbollah terror cells planning to carry out attacks with anti-tank missiles. Last night, another Hezbollah attack on kibbutz Misgav Am was reported. According to the latest reports, it involved another anti-tank missile that also set off the air alarm in the evacuated town of Kiryat Shmoneh. Lebanese airline Middle East Airlines has now decided to withdraw its entire fleet from Lebanon. This followed a mass evacuation of 20,000 civilians from southern Lebanon.
Gaza
Early in the afternoon, Hamas launched two kamikaze UAVs towards the IAF bases of Hatzerim and Tzealim, near Gaza. Again, Iron Dome shot the UAVs out of the sky. Meanwhile, the IAF continued its attacks on Hamas terrorist targets. These attacks are now designed to pave the way for a ground invasion. According to Ya'acov Amidror, a former security adviser to the Israeli government, every day that passes is in Israel's favor. The IAF attacks weaken Hamas and exhaust the terrorist organizations' rocket arsenal in Gaza, according to Amidror.
An opinion poll published yesterday shows that seventy per cent of Israelis are in favor of destroying the Hamas terror organization. Fifty-four per cent of Arab Israelis also hold this view. Sixty-eight per cent of Israelis believe that a ground operation is the best means to end the Hamas regime in Gaza.
Yesterday, the IDF organized a briefing for foreign reporters on the atrocities committed by Hamas on 7 October. The briefing was closed to the public and reporters were not allowed to use their phones to take footage of the staggering images. These images included footage of a Hamas terrorist shooting a man and then beheading him with a shovel. The IDF also showed footage from Gaza taken by Arabs there. That footage showed the lynching of a badly wounded IDF-soldier being pulled from a car by a frenzied crowd. A spokesman for the IDF said they also have video evidence of rapes of kidnapped Israeli women but cannot show it for understandable reasons.
Oct. 23, 15.45 (CET)
Ofir Libstein was a beloved local Israeli hero who was killed during the Hamas massacre on 7 October. Ofir campaigned for a sustainable and environmentally friendly Gaza to create a stable and prosperous future for the Palestinian people.
Ofir's extraordinary impact reached far beyond his hometown and leaves an indelible impression on the lives of those who knew him and those who heard his inspiring story. Pray for comfort for Ofir Libstein's bereaved family.

Oct. 23, 15.20 (CET)
Update from our correspondent Yochanan Visser in Israel
Gaza
Israeli airstrikes on Gaza continue in full force. Hamas and Palestinian Islamic Jihad (PIJ) resumed rocket attacks on Israel this morning, after a pause of almost 13 hours.
On Sunday evening, the IDF further conducted a raid in northern Gaza, where soldiers searched the fields next to the border fence. The expected ground offensive into Gaza will begin in the north of the enclave, and the Israeli army searched the area for booby traps and tunnel exits. In the limited ground action, 19-year-old IDF sergeant Tamir Barak was killed, and three other soldiers got wounded.
Lies by Hamas leader Mashal
Hamas leader Khaled Mashal was interviewed at his residence in Qatar about the crimes his men committed in southern Israel. The stone-faced Hamas leader adamantly denied that Hamas had deliberately killed civilians, saying it was a fabrication by Netanyahu. "We don't hit civilians on purpose. Civilians get injured in all wars, and we focus on resisting the occupation," Mashal said.
A captured Hamas terrorist said during his interrogation by Israel's internal security service Shin Bet that he felt deceived by Hamas leaders. According to the captured terrorist, Hamas leaders Haniyeh and Mashal are responsible for deception and called them corrupt. Meanwhile, the IDF found cyanide capsules and a vaporizer in the pack of one of the slain terrorists who carried out the massacre on October 7. A USB stick was also found that contained videos on how best to decapitate. In the equipment of another dead terrorist, a pink children's backpack was found that contained a remote-controlled bomb. The intention was apparently to lure children with these backpacks and then kill them with the bomb.
Delay ground invasion in Gaza
There are a few reasons for the delay in the IDF ground invasion of Gaza. The first is the fact that 220 civilians are being held hostage by Hamas. The lives of these hostages, including about 50 people with foreign passports, must be spared if possible. A second reason is the evacuation of civilians in Gaza from the north of the enclave and Gaza city. This evacuation is still ongoing and about 700,000 Palestinian civilians have now fled.
A third reason is that the Israeli Air Force is still paving the way for the ground invasion via aerial attacks. Taking out as many military installations as possible and killing terrorists from the air will make the ground operation less dangerous. Furthermore, Israel is in no hurry because it has the support of many leaders around the world, unlike previous confrontations with Hamas and Palestinian Islamic Jihad. The latest news from southern Israel is that earlier this afternoon, the IDF prevented a Hamas drone attack on already hard-hit communities around Gaza.
The front in northern Israel
The so far limited conflict with Hezbollah in Lebanon continues. Today, Hezbollah announced that seven members of the terror organization have been killed in IDF retaliation in southern Lebanon. This happened after several anti-tank missiles were fired at IDF positions along the border with Lebanon. Mortar shells were also fired again at the village of Yiftach in the border area, and an unmanned aircraft coming from Lebanon was shot down. The IDF also prevented a rocket attack on the village of Shlomi, just north of the town of Nahariya, with a pre-emptive strike on four Hezbollah units.
Hezbollah's arsenal of weapons
Israel's Institute for National Security Studies (INSS) published the results of a survey of Hezbollah's rocket arsenal today. According to INSS, the arsenal is much larger than previously believed and is said to include 200,000 projectiles. Hezbollah has 80,000 medium- and medium-range missiles at its disposal.
Furthermore, the Iranian-sponsored terror group has about 30,000 long-range missiles with a range of up to 300 kilometers. Numerous Scud missiles and hundreds of guided missiles are also part of Hezbollah's arsenal as well as C802 anti-aircraft missiles and Yakhont anti-ship missiles. In addition to these missiles, Hezbollah has UAVs that have a maximum range of 400 kilometers.
More and more countries are now contributing to an unprecedented troop build-up near Israel. The United States, as previously reported, already has two aircraft carriers off Israel's coast and a number of other warships. It was reported today that Germany, Britain, the Netherlands and Italy have also stationed special units of their armies in Cyprus.
Oct. 23, 12.45 (CET)
Update from our correspondent Yochanan Visser in Israel
The northern front
Developments on the northern front dominated the news in Israel on Sunday morning, as it became clear that Iran is trying to escalate the current conflict towards a multi-front war. Iranian aircraft brought advanced weapons to Syria in a conveyor belt last weekend. Ishmail Qani, the commander of the Islamic Revolutionary Guard Corps' Quds Brigade, arrived in Syria on Saturday to oversee the war against Israel. The Quds Brigade is charged with exporting the Islamic Revolution to other countries and oversees the activities of the so-called Iranian Resistance Axis.
The Israeli Air Force (IAF) then again bombed the runways of the Syrian airports of Aleppo and Damascus. This time, a huge number of explosives was used to totally destroy the runways so that they are out of order in the coming period. Iran has been preparing for a multi-front war against the Jewish state for years.
United States
Joe Biden's US Administration is now engaged in an unprecedented effort to strengthen Israel militarily. An airlift of huge cargo planes has been established, bringing all kinds of military equipment and weapons to Israel. The US also brought two Iron Dome defense systems and several Patriot missiles to Israel this weekend. The US is further reinstalling Patriot systems and the so-called THAAD anti-long-range missile shield in the Middle East.
The Americans are also actively increasing their military presence in the Red Sea area. The aircraft carrier USS D. Eisenhower is now heading to the sea off the coast of Yemen. There, four cruise missiles and 15 drones, fired by the Shiite militia Ansar Allah, had been downed earlier by the USS Carney. Two thousand members of the US Special Forces have been transferred to the Middle East and more are coming. The Biden Administration has also approved a military aid package worth 13 billion for Israel. US support is thus unprecedented. This no doubt has to do with fears that the current war could grow into a regional or even global conflict.
Iran has apparently decided to attack US bases through its allies in Iraq and Syria. On Saturday and Sunday, attacks were reported on the US base in Al-Tanf at the Syria-Iraq border. Drones attacked the major US base Ein al-Assad in Iraq. Three US soldiers were killed in that attack while six others were wounded.
Yesterday, Prime Minister Benjamin Netanyahu warned Hezbollah again. "When Hezbollah decides to really participate in the war, we will hit it with a force beyond imagination. The result will be devastating for Lebanon." Earlier, minister of Defense, Yoav Galant, said that Lebanon would be turned into 'the stone age' if Hezbollah starts firing rockets at Israel.
Yesterday, the US government warned any country or organization seeking to expand the circle of combat not to do so. The Pentagon continued by saying the US will not hesitate to take military action against those countries or organizations. Last night, a Druze leader in Lebanon confirmed that the US has warned Hezbollah that expanding hostilities against Israel would lead to US military action against both Hezbollah and Iran.
Gaza
Rocket fire from Gaza also continued on Sunday. However, it was mainly limited to the Gaza area. It is estimated that Hamas and Palestinian Islamic Jihad still have a stockpile of 20,000 rockets. Most of these rockets have been produced locally in what the IDF calls 'the underground', a large underground network of tunnels. It seems likely that Hamas has transferred hostages into the tunnels. 'The metro' is also being used as a hideout for Hamas commanders. The number of hostages has now reached 212 and among them are about 50 foreigners and people with dual nationality.
On Sunday night, the pressure on Gaza was further intensified and a massive bombardment was carried out by the Israeli Air Force. Dozens of terrorists were killed in the bombardment of 220 targets. Israel's internal security service Shin Bet has set up a special unit called Nili. This unit will focus on liquidating all those involved in the 7 October massacre. Among them is the so-called Nukhba command of Hamas, which played a leading role in the horrific invasion of southern Israel.
On Sunday afternoon, an exhausted Hamas terrorist was arrested trying to reach the Gaza border. It seems that some Hamas terrorists are still in Israel. The IDF also discovered an abandoned camp of the terrorists just outside the city of Ashkelon.
Last Friday, foreign journalists who are in Israel to report about the war, were taken to the Abu Kabir Forensic Institute, where experts try to identify the most severely mutilated bodies of murdered Israelis. A journalist from US news agency Media Line described the terrible things he had seen. He further wrote that several journalists had to cry during the tour. The autopsy specialists in Abu Kabir told Media Line that, in their long career, they had never seen things like decapitated babies and remains that were totally unrecognizable as human beings.
Judea and Samaria
In the Palestinian town of Jenin in Samaria, the IAF carried out a rare airstrike on a terror tunnel. The tunnel was believed to be used for a terrorist attack on the Israeli town of Afula 15 kilometers away from Jenin. The front in central Israel is controlled by the IDF by conducting daily raids in PA-controlled areas, with a focus on Hamas terrorists. Apparently, the IDF is determined to put an end to the terror organization's activities in Israel.
Oct. 23, 10.45 (CET)
In the song 'Cry no more, Yerushalayim', Orthodox Jewish singer Yaakov Shwekey poignantly sings about the suffering of Israel and the Jewish people.
The song begins with a quote from Israeli Prime Minister Benjamin Netanyahu: 'The UN has singled out the nation of Israel more often than all the nations of the world combined'. He is referring to the unjust way Israel is treated internationally.
Shwekey sings about the injustice done to Israel and the Jewish people, but ultimately ends with a message of hope. The song is several years old, but more relevant than ever.

Oct. 22, 13.03 (CET)
We can no longer stand quietly while hundreds of hostages wait for rescue from the hands of Hamas terrorists in Gaza. Our passion and determination have led us to the steps of the UNHRC and ICRC offices in Geneva, Switzerland, where we'll voice our demands for their involvement in the hasty and safe release of all hostages.
Join us today (Sunday 22 October) at 3pm CET for the livestream via the following link:

Oct. 20, 20.03 (CET)
Message from Calev Myers and Tomas Sandel from Geneva:
Oct. 20, 15.30 (CET)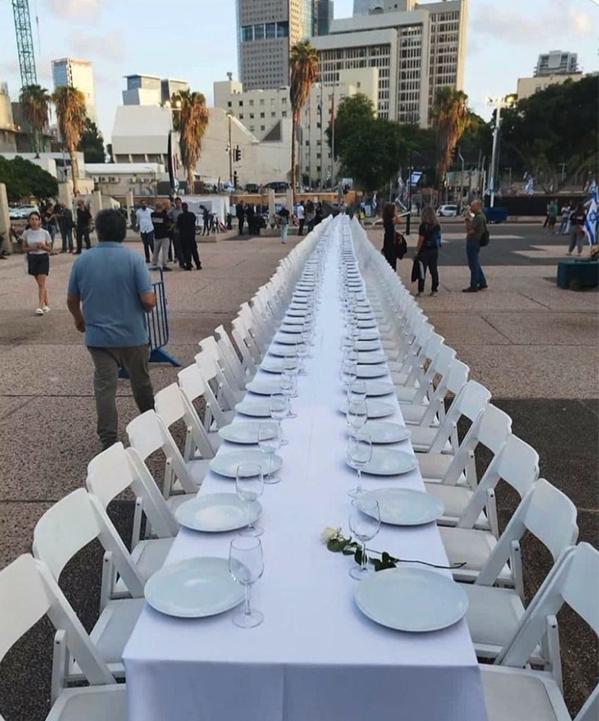 Outside the Tel Aviv Museum of Art is this 'Empty Shabbat Table'. 203 empty seats for the 203 hostages held in Gaza. Click here to see their names and faces. Please pray for their release and safe return home. #BringThemHomeNow

Oct. 20, 14.50 (CET)
Update from our correspondent Yochanan Visser in Israel
Northern Israel
There is a state of emergency in northern Israel now after some 30 rockets were fired at several towns and villages along the border with Lebanon last night. After the Israeli government decided to extend the security zone to five kilometers from the Lebanese border, it was decided today to evacuate the town of Kiryat Shmona entirely.

This is due not only to the ongoing rocket attacks on the town, but also to fears of infiltrations by Hezbollah terrorists. Kiryat Shmona residents received strange phone calls yesterday from people who identified themselves as soldiers from the IDF home front command. In some cases, there were also knocks on the door. The Israeli army's home front command does not operate this way. The clearing of the town will be the first step towards intensifying IDF actions against Hezbollah, according to experts. The Israeli army has so far limited itself to smaller actions against Hezbollah, due to fears for the lives of residents of the border strip in Israel's far north.

Another incident near Kiryat Shmona was reported early afternoon. Residents of the kibbutzim Manara, Kfar Giladi and Misgav Am were ordered to stay in their homes and lock themselves in the Maamad, the private shelter, as shots were fired at these kibbutzim. The latest news is that an armed terrorist also infiltrated the area around Kiryat Shmona.

Gaza
The IDF's ground operation has not yet begun, but the soldiers are ready for it. In a video that has been published, we see a large group of dancing IDF soldiers raising their rifles and singing the song Am Yisrael Chai.

Rocket fire by Hamas and Palestinian Islamic Jihad (PIJ) continues unabated. Around one o'clock this afternoon, a rocket was launched towards the town of Beit Shemesh, about 20 kilometers west of Jerusalem. However, the missile was intercepted by the Iron Dome. Israeli police further arrested four Palestinian Arabs from Gaza in the city of Beer Sheva in southern Israel today. The four were hiding in a flat in the city. It is not clear whether they were illegal workers or terrorists who took part in the 7 October massacre.

Meanwhile, the identification of bodies found after this massacre continues and is complicated by the fact that many bodies are badly mutilated or burnt. The IDF also announced yesterday that Captagon pills had been found on the bodies of Palestinian terrorists who took part in the bloody invasion on 7 October. Captagon is also called the 'cocaine for poor men' and has an even stronger effect. A three-euro pill causes a feeling of overconfidence and aggression, without feeling restrictions to kill anyone. The drug was also used at the time by ISIS during atrocities. The Captagon pills have probably been supplied to Hamas by Hezbollah and come from Syria, which has the largest Captagon production in the world.

Yemen
As it now appears, the US Navy prevented a rocket and drone attack on Israel carried out by the Iranian-sponsored Ansar Allah (Houthi) militia last night. This was the first time the Americans intervened in the ongoing conflict orchestrated from Iran. That Iran is behind the violence against Israel and sees the US as part of the war was also evident in a drone attack on a US base in eastern Syria. Several US soldiers were slightly injured when an unmanned attack aircraft attacked the Al-Tanf base on the Iraq-Syria border. Iran has always used drones against the US military in the past and is one of the world's largest producers of unmanned aircraft.

Oct. 20, 14.00 (CET)


This webinar from 17 October 2023 provides an update on the Israel-Hamas conflict, the main challenges facing the State of Israel, how the church should respond, and how nations should get involved. Thinc. hosts this webinar with international law experts: Moderator: Andrew Tucker (thinc.) Prof. Avi Bell (Bar Ilan and San Diego Universities) Lt. Col. (Res.) Maurice Hirsch (Jerusalem Center for Public Affairs)

Oct. 20, 10.10 (CET)
Update from our correspondent Yochanan Visser in Israel

Gaza
Yesterday, the Israeli Air Force continued to carry out airstrikes against terror infrastructure in Gaza. Operation Iron Swords thus entered its twelfth day without the expected ground war. According to the IDF, hundreds of targets were attacked again, and two top Hamas commanders were eliminated. Much of the attacks took place in the Sageya neighborhood of Gaza City. The Israeli army has indicated that preparations for the ground offensive against Palestinian terror movements in Gaza are now complete.

Among other things, the IDF has installed steel cages on the tournettes of tanks and other armored vehicles. This is to prevent drone attacks by Hamas. Prior to the bloody invasion of southern Israel on October 7, Hamas used unmanned aerial vehicles to destroy the top of IDF observation towers with bombs.The now-mounted cages give soldiers much better protection against such attacks.

The government in Jerusalem has now ordered the evacuation of thousands of residents of the city of Ashkelon, 15 kilometers south of the Gaza Strip, if the war escalates further. These include some 24,000 residents who have no so-called Maamad (private shelters), tens of thousands of elderly and single people. Ashkelon is the city most affected by Hamas' rocket terror. The city was again shelled with rockets today.Israel, under US pressure, has now agreed to deliver humanitarian aid to Gaza residents through the Egyptian Rafah border crossing. Prime Minister Benjamin Netanyahu made it clear that under no circumstances will goods, gas and electricity be delivered from Israel to Gaza. Israel has no obligation under international law to deliver goods or anything else to Gaza because it is enemy territory. In fact, under UN Security Council Resolution 1373, Israel has an obligation not to deliver anything to Gaza. Under this resolution, states are prohibited from providing any form of assistance to those engaged in terrorism.

The number of Israelis held hostage by Hamas has now risen to 203, among them a Dutch-Israeli boy. UN Secretary-General Antonio Guterres will personally visit Gaza on Friday to oversee the first delivery of relief supplies to Gazans. It is so far unknown whether he will insist on being able to examine the humanitarian situation of the hostages.

Lebanon
Hezbollah continues its aggression against Israel and further stepped up the number of rocket attacks on the north of the country today. Around five o'clock yesterday afternoon, a barrage of 30 rockets was fired at northwest Israel and the town of Kiryat Shemoneh, in the far north of the country. One house was hit, injuring three civilians, including a five-year-old girl. The rocket attack followed shelling with mortars and two anti-tank shells on kibbutz Manara, just south of Kiryat Shemoneh. The IDF again responded with artillery shelling, and with attacks by Apache helicopters on Hezbollah targets in Lebanon.

More and more, mainly, Western countries are now evacuating their citizens in Lebanon. The US government, meanwhile, reportedly called on Israel not to start a war with Hezbollah. The US has two aircraft carriers and seven other naval vessels off the coast with Israel. There are 15,000 soldiers on these ships who could assist the IDF in fighting Hezbollah in case of emergency. This US fleet is now the second largest army in the Middle East in terms of firepower. President Joe Biden assured during his visit to Tel Aviv this week that Israel is not alone in this war.

Judea and Samaria
Palestinian terror movements in central Israel (Judea and Samaria) are now trying to open a third front with a marked increase in terrorist activity. The Israeli army, together elite units of border police, raided the Nur Shams refugee camp near the Palestinian town of Tulkarem again yesterday. This refugee camp has become a Hamas stronghold, and it was the second time this week that the IDF was active there. Six Arabs were killed in the raid, according to the Palestinian Authority, while ten were wounded on the Israeli side. The Palestinian Arabs in Nur Shams used homemade bombs against the Israeli forces and fired at them with automatic rifles. Eventually, an IDF drone ended the Palestinian violence and killed the six terrorists. In other incidents near Bethlehem and in Budrus (near Ramallah), two Palestinian terrorists were shot dead who strafed IDF soldiers with Molotov cocktails and other objects.

Oct. 19, 16.45 (CET)
Nearly 500,000 Israelis had to leave their homes following the recent Hamas terrorism. Residents of 20 villages and towns around the Gaza border have been forced to leave their homes behind. Residents of 28 villages and towns in within a two-kilometer radius of the Lebanese border have also been evacuated, due to shelling by Hezbollah.

In Israel, a lot of organizations (including the ones that Christians for Israel International partners with) have launched all kinds of initiatives to accommodate the refugees. You can donate online to help the people of Israel in these difficult times.

Oct. 19, 12.00 (CET)
Almost 200 people from Israel, including babies, children and elderly, have been taken hostage by the terrorist group Hamas. Click here to see their names and faces. Please pray for their release and safe return home.

Oct. 19, 11.25 (CET)
Israel's President Yitzhak Herzog in an interview with the British newspaper – Daily Mail: "For me, the BBC's report is shocking. The fact that the channel does not recognize Hamas as a terrorist organization requires a legal battle and an absolute public battle. It's unbelievable.

What other kind of torture do they want before they decide it's a terrorist organization? I saw severed heads, I saw horrifying pictures, children shot and painful stories of whole families wiped off the face of the earth. What else do they need to admit that we are dealing with the worst terrorist organization in the world?"

Rishi Sunak, the Prime Minister of the United Kingdom, is in Israel today. Unlike the BBC, he made a clear statement: "You went through indescribable suffering, a barbaric act of terrorism, and this atrocity should be called by its name – this is an act of terrorism! You have the right to defend yourselves, restore security to your people and your country, and ensure the safe return of the hostages taken. This is not a right – it is a duty to restore security to your country."

Oct. 18, 21.05 (CET)
Update from our correspondent Yochanan Visser in Israel
After all the excitement over a hospital in Gaza being hit last night by, what the media originally said, an Israeli rocket, some more rationality emerged today in the international community. This happened after Israel demonstrated with video and audio recordings that Palestinian Islamic Jihad (PIJ) was responsible for the incident. You can read all about it in this analysis, which we published today.

Biden visit
US President Joe Biden's solidarity visit was at the center of today's coverage of Israel. Biden also addressed the deadly incident at Al-Ma'amadani hospital, saying that apparently 'the other team' was responsible. By this, he meant Hamas and Palestinian Islamic Jihad. The US president also attended a meeting of the Israeli security cabinet. At this meeting, an expanded attack on Gaza was decided, with Biden's approval.

New video of hospital parking lot
The IDF this afternoon also published video footage taken by a spy drone of Al Ma'amadani hospital this morning. That video showed that the hospital itself had not been damaged. Only a large number of cars in the car park had been burnt and a crater was missing. This basically reconfirmed that the incident was due to a PIJ missile that exploded prematurely after going off course. Hamas has now put the death toll at 57.8 but this raises the question of how many people were present in that car park. Moreover, the usual footage of tearing ambulances arriving at Gaza hospitals is missing. Most likely, it will be established after the war that there was no massacre at the hospital.

Anger in Arab countries
However, the Hamas propaganda about the hospital did not miss its impact on the masses in the Middle East. In Jordan, the Israeli embassy was stormed, and police struggled to keep the angry crowds outside the building. In Beirut, Lebanon, something similar happened to the US embassy. The building was set on fire. A large crowd of Hezbollah supporters stormed the embassy carrying Palestinian and Hezbollah flags. US citizens in Lebanon are currently being evacuated. The government of Saudi Arabia tonight called on its citizens in Lebanon to also leave the country. This is due to the expectation that expansion of Israeli actions in Gaza will lead to expansion of Hezbollah aggression and then war.

Hezbollah
Also today, Hezbollah fired guns at Israeli soldiers at numerous locations along the border. In most cases, the target was Israeli surveillance systems installed mostly on hills. This could be an attempt to 'blind' the IDF ahead of a major Hezbollah attack. The concept used by Hamas in invading southern Israel was repeatedly discussed publicly by Hezbollah leader Hassan Nasrallah. This evening, nine rockets were fired at the Golan Heights and the town of Kiryat Shmoneh, in Israel's far north. Four rockets were intercepted – the rest fell in open areas. These rocket attacks followed six anti-tank rocket attacks on IDF positions along the border. Tonight, mortar shells were also fired at two positions along the border, the villages of Turmus and Lumus. An IDF drone then killed the terror cells that carried out the shelling.

Again today, the IDF generally sufficed with artillery shelling at the sites from which it fired. However, it is becoming increasingly clear that this strategy will not last long. The government in Jerusalem has now decided to evacuate civilians in a zone five kilometers from the Lebanese border.

Threat from Iraq
Then there is Iraq, where US troops were attacked with drones today by an unknown enemy, probably Iran. The Al-Wad Al-Saddeq Shiite militia announced today that it had moved 5,000 heavily armed members to the border with Israel in the Golan Heights. Another 10,000 men are said to be ready to move to the border with Israel as well. Such reports are difficult to verify because there are almost no reporters left in Syria. What is clear, however, is that Iran has tens of thousands of fighters in Syria who will participate in a future (imminent?) attack on Israel.

Oct. 18, 17.00 (CET)


Oct. 18, 15.30 (CET)
Update from our correspondent Yochanan Visser in Israel
'A hospital in Gaza destroyed by occupation airstrike: 5,000 dead!' An hour later: 'Al-Ma'amadani hospital destroyed by Zionist entity bomb: 500 dead!' This was the thrust of reporting from Hamas last night, about an incident in Gaza in which a Baptist church hospital was allegedly destroyed. What followed was a repeat of what we have seen before with wars between terror movements and Israel. The whole world fell over Israel before the facts could be checked. Even Russia, which has committed one war crime after another in recent years, joined the critics and called for an emergency session of the UN Security Council. So, it seems sensible to get those facts straight and take a close look at the video and photographic material that has now been released. And then one comes to a completely different conclusion.

30 (!) 'hospitals' in Gaza
Most hospitals in Gaza are military facilities. This was demonstrated after the start of the war by Israeli researcher Daniel Cohen. Cohen discovered that there were as many as 30 'hospitals' in Gaza, which is 10 times as many as in the Gosh Dan region of Israel, which has a similar population. Some of these 'hospitals' are interconnected by a network of tunnels. It has long been known that Hamas uses hospitals for its terrorist activities. The large al-Shifa hospital was used to house a Hamas command center as early as 2008. It should be noted that hospitals used as military facilities are a legitimate target in warfare.

Now to the facts surrounding the al-Ma'amadani hospital incident. Remarkably, the footage released by Hamas already showed that there were at most 30 bodies laid out outside in the hospital car park. These bodies were covered with white sheets on which no trace of blood could be seen. Shortly after the hysteria surrounding the '500' deaths began, the IDF issued a statement attributing the hospital incident to Palestinian Islamic Jihad (PIJ). This terror group allegedly fired a number of rockets from a launcher behind the hospital. According to the IDF, one of the rockets reportedly hit the hospital. Photos released overnight showed that a hole had been punched in one of the hospital's walls. The blackened hole resembles what is seen with rockets hitting and destroying buildings in Israel.

Video footage
Then there is the video footage. A live broadcast by Arab media giant Al Jazeera showed that a rocket salvo was fired seconds before the incident took place around the hospital. The video shows one of the rockets suddenly swinging off, exploding and then coming down. An explosion can be seen moments later. Another video circulated on social media showed even more clearly that the explosion on the ground was caused by a missile, which apparently malfunctioned.

The clearest evidence that a PIJ rocket hit the hospital – and not a projectile allegedly fired by the Israeli Air Force – was released this morning. It concerns an intercepted telephone conversation between two Hamas terrorists. In that conversation, one of the two says that PIJ rockets fired from a cemetery behind the hospital. "They say shrapnel from the rocket is local shrapnel and not Israeli shrapnel," the Hamas terrorist says. "Couldn't they have found another place for the explosion," says the Hamas terrorist. "The cemetery is in the grounds of Al-Ma'adani hospital." The intercepted phone call, with English subtitles:

Pallywood
It is now clear that Hamas is using this drama to influence public opinion and create an international uproar at a time when some world leaders, including US President Joe Biden, are visiting Israel to show solidarity after Hamas' massacre of 1,400 Israeli civilians. The whole incident was a classic example of 'Pallywood', media manipulation meant to turn the international community against Israel.

Oct. 18, 11.55 (CET)

The American president Joe Biden has arrived in Israel. During a press conference Prime Minister Benjamin Netanyahu stated: "Mr. President, for the people of Israel there is only one thing better than a true friend like you who stands by Israel – and that is that you stand inside Israel. Your visit here is the first visit of an American president to Israel during wartime. It is deeply moving. It shows the depth of your personal commitment to Israel, it shows the depth of your personal commitment to the future of the Jewish people and the single state of the Jews."

Biden also made a statement: "I wanted to be here today for a simple reason. I want the people of Israel and the world to know that the US stands by Israel. I wanted to come in person and make this clear. The terrorists from Hamas murdered more than 1,300 people, and not just murdered – butchered! including some Americans. We will ensure that you have what you need to protect yourself. It should also be remembered that Hamas does not represent all Palestinians. He brought them only suffering. I am sad and angry about the explosion at the hospital. According to what I saw, the attack was not carried out by Israel."

Oct. 18, 11.15 (CET)
Israeli President Isaac Herzog has reacted with dismay to the false accusation that Israel bombed the Al Ahli hospital in Gaza. "A rocket from Islamic Jihad killed many Palestinians at a hospital in Gaza, a place where lives should be saved," Herzog said. "The media that swallow the lies of Hamas and Islamic Jihad should be ashamed," he added.

Immediately after the explosion, Hamas accused Israel of bombing the hospital, while it was later revealed that it was a rocket fired by terror group Palestinian Islamic Jihad. However, many international media by then had already taken up the accusation against Israel. "Never before has the choice been clearer," Herzog concluded. "Israel is facing an enemy made up of pure evil. If you stand for humanity – for the value of all human life – then stand with Israel. Shame on the vicious terrorists in Gaza who deliberately shed the blood of innocents."

Oct. 18, 10.12 (CET)
Interview with Mirjam Reijnen from Kibbutz Nahal Oz.

When the sirens went off in kibbutz Nahal Oz, Mirjam had to run with her childeren to their safe room. Because terrorists had entered Israel from Gaza. They waited for 7 hours until the army came to save them.

Oct. 17, 14.00 (CET)
Update from our correspondent Yochanan Visser in Israel
While the IDF's ground offensive in Gaza still has not begun, Hamas and Palestinian Islamic Jihad (PIJ) have resumed rocket attacks on Israel. Yesterday afternoon, there was a barrage of rockets on Tel Aviv and Jerusalem, where the Knesset was evacuated following the code-red air alert.

Hamas crush
Prime Minister Netanyahu gave a speech in the Knesset shortly before the latest rocket attack on Jerusalem in which he reiterated that the goal of the IDF operation in Gaza is to crush Hamas. "Our goal is a crushing victory over Hamas and removing its threat to Israel once and for all", the prime minister said. Netanyahu also warned Hezbollah, telling them to be 'careful' and not to test Israel. He had not yet issued this warning or Hezbollah committed new aggression. IDF soldiers on the border with Lebanon were fired upon by Hezbollah terrorists. Fortunately, there were no casualties and the IDF again responded with artillery shelling at the spot from which the soldiers came under fire.

The Arab fifth column in Israel
There was other disturbing news that caused concern in Israel. So far, Israeli Arabs have kept calm in contrast to the last conflict with Hamas last year. Back then, real pogroms were organized against the Jewish population in Israel's so-called mixed cities. This has not been the case so far. The only excesses were statements of support for Hamas on social media expressing approval of the October 7 massacre.

However, it now appears that part of the Arab population in Israel is preparing for armed conflict. The northern branch of the Islamist movement in Israel is notorious for its hostile activities against Israel and is now actively preparing to engage in conflict with Hamas and Hezbollah. The Islamists in northern Israel have formed a brigade in the Wadi Ara area south of the city of Afula called Shahiraq al Fahmawi, composed mainly of Arabs from the town of Um al-Fahm. This brigade holds military exercises at night near kibbutz Meggido. Israeli observers say the group has four-wheel drive vehicles and organizes combat training exercises in which paintball guns are fired. Um al-Fahm was the scene of serious violent riots during the Second Intifada in which Jews' cars were pelted with stones.

Biden to Israel
It was also announced yesterday that US President Joe Biden is coming to Israel on Wednesday for a solidarity visit. Biden made an impression last week when he strongly condemned Hamas' atrocities on 7 and 8 October. In Israel, pressure from Biden to resume humanitarian aid to Gaza is anticipated. The Americans, together with the Egyptian government, tried to broker a humanitarian temporary ceasefire yesterday. That attempt failed because there is strong resistance in Israel to supplying goods, electricity and water to Gaza following Hamas' massacre of the population in southern Israel.

Documented atrocities
Those atrocities are not portrayed by the mainstream media but have been documented by a new project by the Middle East Media Research Institute (MEMRI). Furthermore, a group of Israeli researchers operating under the name South First Responders has published photos and videos on Telegram exposing Hamas atrocities. In Israel, these atrocities are compared to those of the SS Einsatz Gruppen. Even ISIS did not commit these kinds of crimes against humanity against Jews, it is claimed. The latter is not true, but the Islamic State group never specifically singled out Jews for the atrocities it committed. Hamas officials, meanwhile, stubbornly deny that the terror group itself was involved in the massacre in southern Israel. It is claimed that civilians from Gaza who could freely cross the border after the invasion were involved in the mass murder of Israelis.

Oct. 17, 9.14 (CET)
U.S. President Joe Biden will visit Israel this week in a show of support, as the IDF continues to strike Hamas targets in the Gaza Strip ahead of an anticipated ground offensive. (source JNS)

Oct. 16, 16.12 (CET)
Major rocket barrage targets Jerusalem, Tel Aviv, sending Knesset to shelters mid-session
Incoming rocket sirens are sounding in Jerusalem and Tel Aviv, as terrorists in the Gaza Strip launch long-range rockets at Israel's largest cities in possibly the largest barrage since the initial salvo on October 7.

The rockets are launched during the opening session of the Knesset, sending lawmakers and other attendants to bomb shelter and delaying the session.


Oct. 16, 15.36 (CET)
These are the people kidnapped by Hamas


The image below shows photos of the 155 people held hostage in the Gaza Strip since Saturday, Oct. 7. Among them babies, children, women, the disabled and the elderly. The youngest hostage is 9-month-old baby Kfir; the oldest is an 85-year-old woman. There is no information about them whatsoever. Please pray for their protection and for their speedy release.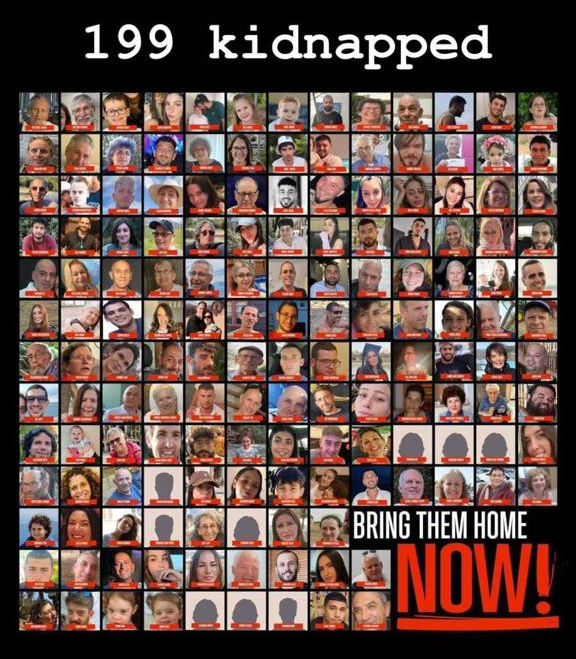 Oct. 16, 14.57 (CET)
Sad news from ADI

ADI, an organization in Israel that provides special care for the multiple disabled and with whom we as Christians for Israel have worked for many years, reports sad news. A member of their caretaking team, Edna Malkano, is one of the fatal victims of the bloody terror attack on Oct. 7. Her body was found near her hometown of Ofakim. She had just returned from her night shift at ADI Negev that Saturday morning. Edna was married and the mother of three children, ages 11, 14 and 15. She was 45 years old.
Marsel Talya, 65 years old, mother of ADI employee Liora, was also killed by Hamas terrorists. Marsel was visiting her daughter, who had given birth to a daughter, Asif, on Oct. 5. She was on her way to the synagogue on the morning of Oct. 7 to hand out sweets to the children in honor of Asif's birth when she was shot dead.
Photos (left to right): Edna Malkano – Liora with her mother – The only photo of Grandma Marsel with her granddaughter Asif
Oct. 16, 13.03 (CET)
Update from our correspondent Yochanan Visser in Israel – This is what happened on Sunday Oct. 15

Gaza
The expected ground offensive in Gaza has not yet begun. There are several reasons for this. Firstly, because of weather conditions. Yesterday it was cloudy and raining at times. This hindered operations in Gaza, including those of spy drones. A second reason for the delay is that the Israeli air force is still evacuating the area in northern Gaza.
Over the past two days, the air force carried out the largest number of attacks on military targets in Gaza in the history of confrontations with Hamas and Palestinian Islamic Jihad (PIJ). Hamas and PIJ will undoubtedly have "surprises" in store for IDF soldiers. Hundreds of weapons depots, rocket launchers, command centers and other military targets were bombed on Saturday and Sunday.Hamas and PIJ significantly reduced the number of rocket attacks on Israel yesterday. This is probably an indication that they want to keep the remaining arsenal of rockets for use during the ground war.
Evacuate 
A large number of Palestinian families in northern Gaza tried on Sunday to heed the urgent IDF call to evacuate before the ground offensive begins. However, they were stopped at Hamas' checkpoints on the roads into southern Gaza. Israel partially restored water supplies to southern Gaza on Sunday evening. This was done to encourage people to go to southern Gaza. According to Hamas, fuel supplies in Gaza are running low and this would "force hospitals to close. However, take this with a pinch of salt, because Hamas has built a very large number of gas stations with underground tanks to store fuel. These gas stations act as an emergency supply of fuel. Hospitals in Gaza are Hamas facilities in two out of three cases. Compared to Israel, Gaza has seven times as many hospitals connected by tunnels.
The number of Israelis kidnapped during the Hamas invasion on Oct. 7 is now officially 156 and this number may continue to rise. This number was announced by the IDF after the families of those kidnapped were notified. Among those kidnapped is a family of five. They are the Calderon family, a father with two children, the grandmother and a cousin who is disabled. There is pressure from the families of the hostages on the government to begin negotiations with Hamas before the IDF enters Gaza.However, the chances of that happening are now very unlikely because Israel's attitude toward Hamas and PIJ has changed dramatically. The goal now is to end the Hamas regime in Gaza, and this goal seems to transcend everything.
The second front in northern Israel
After a sharp escalation in attacks by Hamas and Hezbollah on targets in Israel on Sunday one can now speak of a second front. Five anti-tank guided missiles were reported, killing two Israeli civilians and wounding several others.On Sunday afternoon, a number of rockets were fired at villages and towns in northern Israel. Hamas in southern Lebanon claimed responsibility for the attacks, saying it had fired 20 rockets. Eight Israeli civilians were wounded in the rocket attacks.New drone attacks by Hezbollah and attacks on IDF observation posts were also reported. The latter was apparently done to "blind" the IDF, just as Hamas did before the October 7 massacre.
The Israeli army used Apache helicopters and artillery in its responses to the aggression from Lebanon. Residents of the border region in northern Israel within a four-kilometer radius of the border are now in permanent shelters. In addition, the IDF decided to evacuate all residents of villages in an area of two kilometers from the border. This is to prevent kidnappings of civilians by Hezbollah.
The Israeli Air Force (IAF) is also active in Syria, where at least two rockets were fired from the Golan Heights last weekend. The rocket fire was met with artillery fire. IAF fighter jets again bombed the runways of Damascus and Aleppo airports on Sunday. This was done to prevent the landing of a civilian plane belonging to the Iranian airline Mahan. Mahan is affiliated with the Iranian Revolutionary Guard Corps and has transported large quantities of weapons by civilian aircrafts to Syria in the past.
Oct. 14, 16.29 (CET)
EL AL operates two flights today on Shabbat. Click below for some facts about these flights:

Oct. 14, 10.33 (CET)
Explainer: Media coverage about Israel
The images are imprinted on our memory. Hamas invades Israel with unprecedented violence. Not surprisingly, many questions are now surfacing: what caused this escalation of violence? And how could this spin so tremendously out of control? The media give many reasons. But are they correct? Time to check the facts.
Oct. 14, 9.05 (CET)
KIDNAPPED: Pray for the Hostages Taken by Hamas, Share Their Posters, and Demand Their Safe Return

Hundreds of civilians were kidnapped: women, children, and the elderly – ranging from just 3 months old to 85 years old, including entire families. The horror that Hamas is inflicting on these hostages is unthinkable. The tragedy is beyond belief.
We must share their stories and pray for them. Here are posters that have been prepared of the hostages that we've been asked to help share. Please share on social media to help spread their faces globally in the hopes of bringing them home safely.
Oct. 13, 16.25 (CET)
Update from our correspondent Yochanan Visser in Israel
Hamas continues to launch hundreds of rockets, aiming at civilians in Israel. In the early afternoon, an estimated 150 rockets were fired at the city of Ashkelon. The sky was full of white smoke and small plumes of smoke caused by Israel's Iron Dome. Nevertheless, some houses were hit. There were no reports of injuries or worse.
At about the same time, air alarms went off again in northern Israel. This time, it was not a false alarm. A number of long-range rockets reached the region over Haifa and the town of Tzefat (Safed) in northeastern Israel. The David Slinger anti-missile shield was activated by the IDF and none of the missiles reached their target. Hamas in Gaza claimed responsibility for the attack. The town of Metula in Israel's far north was declared a forbidden military area and residents were advised to find shelter elsewhere.
Hamas had earlier fired three anti-tank missiles at an Israeli Air Force unmanned aircraft flying over Gaza. The terror group has bid residents of northern Gaza not to heed Israeli calls to leave their homes and head to southern Gaza. Israel had earlier petitioned the United Nations to help with the evacuation. However, the United Nations refused, stating that the Israeli request was against international law.
Meanwhile, major unrest was reported in Judea and Samaria, where Palestinian Arabs responded to Hamas' call for a 'day of rage'. The violence began after Friday morning prayers and after the IDF, together with agents of the internal security service Shin Bet, raided the town of Tulkarm to detain wanted terrorists. Riots also broke out in Jordan when groups of Palestinian Jordanians tried to cross the border into Israel. However, they were stopped by Jordan's army, which used tear gas to disperse the rioters.
Oct. 12, 16.22 (CET)
Arab-Israeli Lucy Aharish, news anchor at Reshet 13, sent a powerful message to the world on live television . "I'm sorry that I'm using my microphone to send a message to the world. As a journalist this is my only weapon," she started.
"We are under an attack of a brutal, barbaric, inhumane terror organization." "Hamas murdered and slaughtered in cold blood innocent babies, children, elderly, women and men in their homes, in their beds."
Stand with us on the right side of History.
Oct. 12, 15.00 (CET)
Update from our correspondent Yochanan Visser in Israel
The panic that erupted in northern Israel around seven o'clock last night after air raid sirens went off almost everywhere turned out to be a false alarm in hindsight. The Israeli army (IDF) initially confirmed that so-called gliders had flown into Israeli airspace, but later determined that this had not been the case. It was fresh evidence that something is wrong in the IDF's operational intelligence capabilities. Those flaws were best visible last Saturday, when an army of more than 1,500 Palestinian terrorists launched an incursion into southern Israel.
Last night was relatively quiet in Israel but this is clearly the calm before the storm. Last night, the new emergency national unity government was presented to the public. Defense Minister Yoav Galant was most clear about the purpose of the military operation against Hamas. "We will wipe Hamas off the map (from the face of the earth)," said Galant who had earlier said that the situation in Gaza will be turned around 180 degrees. The Israeli minister later spoke to several NATO colleagues and presented them with a video compilation of the atrocities Hamas had committed in southern Israel. Galant made it clear that the existing situation will cease to exist.
Prime Minister Benjamin Netanyahu, at the same press conference, presented new details about the atrocities committed by Palestinian terrorists during the invasion of villages and kibbutzim around Gaza. The prime minister mentioned beheaded IDF soldiers and children shot through the head at close range. His office (PMO) later confirmed that 40 babies had been found beheaded. The death toll among civilians has now risen above 1,300 while the number of IDF soldiers killed also continues to rise. The army again published the names of 31 soldiers killed. This raised the number of soldiers killed to 220.
The Israeli Air Force reported this morning that the number of airstrikes on Gaza has been further increased. This is in preparation for the ground war that could begin at any moment. An area with a 30-kilometre radius around Gaza has been declared a forbidden military area. Furthermore, calls are now circulating on social media to pray for the hundreds of thousands of IDF soldiers who have gathered in the area around Gaza.
Investigations have now established that the invasion by Hamas and PIJ terrorists was preceded by attacks carried out from Israel during the night. There are audio recordings of the panic at an IDF base that was attacked during the night. Those audio recordings were supported by photos taken by soldiers of the attack, which was probably carried out by Bedouins.
Oct. 12, 13.15 (CET)
For the first time in 41 years, the Israeli airline ELAL will fly on Shabbat. Since 1982, Israeli law has prohibited ELAL from flying between Friday night and Saturday night in order to honour the Jewish day of rest. In Judaism, however, there is pikuach nefesh, the principle that the preservation of human life trumps any Jewish law. Israeli rabbis have given ELAL permission to fly to New York and Bangkok on Shabbat to pick up reservists. They can fly along for free; their flight is funded by ELAL itself, among others.
Oct. 12, 12.00 (CET)
By Kees de Vreugd
O Sovereign LORD, my strong deliverer, who shields my head in the day of battle (Psalm 140:7).
Rabbis in Israel are calling to especially pray Psalms 140 to 143 during this difficult time. These are Psalms that express Israel's distress, but also Israel's trust in God, Who will give salvation. But even in distress, the psalmist prays for the right words and not to say thoughtless things (Psalm 141). When you read these psalms, you see before you the images of the past few days: terrorists going door to door to massacre people – like that young couple in Kfar Azza, Iti and Hadar, who just barely managed to hide their 10-month-old twins in the protected room before the terrorists entered their home to kill them. The twins spent 13 hours in the hiding room before they were rescued.
You hear the words, evil as the poison of vipers (verse 3), even from those in our own country who believe they can justify this terrorism as if Israel were committing genocide in Gaza. What we saw on Saturday morning is the prototype of genocide.
Praying for protection
And then I see pictures of a unit of the Israeli army, somewhere in the south. Before taking action, they are standing in a large circle, embracing each other, blessing each other with the right hand on each other's head, praying for protection from the Eternal for each other, for their loved ones at home and for all the people of Israel, while gunfire sounds in the background.
Psalm 140 repeatedly speaks of men of violence. The Hebrew word used there is chamas. Coincidentally? In the middle of the psalm is the confession: 'O Sovereign LORD, my strong deliverer, who shields my head in the day of battle.' The verb to shield is related to the word sukkah. In the synagogal prayer for the State of Israel we find the following words: 'Spread over us the shelter (sukkah) of Your peace'.
Psalm 140
Read Psalm 140 today and pray for Israel using the words of this Psalm.
Rescue me, LORD, from evildoers;
protect me from the violent,
who devise evil plans in their hearts
and stir up war every day.
They make their tongues as sharp as a serpent's;
the poison of vipers is on their lips.
Keep me safe, LORD, from the hands of the wicked;
protect me from the violent,
who devise ways to trip my feet.
The arrogant have hidden a snare for me;
they have spread out the cords of their net
and have set traps for me along my path.
I say to the LORD, "You are my God."
Hear, LORD, my cry for mercy.
Sovereign LORD, my strong deliverer,
You shield my head in the day of battle.
Do not grant the wicked their desires, LORD;
do not let their plans succeed.
Those who surround me proudly rear their heads;
may the mischief of their lips engulf them.
May burning coals fall on them;
may they be thrown into the fire,
into miry pits, never to rise.
May slanderers not be established in the land;
may disaster hunt down the violent.
I know that the LORD secures justice for the poor
and upholds the cause of the needy.
Surely the righteous will praise Your name,
and the upright will live in Your presence.
Oct. 12, 11.30 (CET)
Update from our correspondent Yochanan Visser in Israel
Last night, large-scale airstrikes were launched against Nukhba, an elite Hamas unit. This unit was also prominent during the invasion of southern Israel last Saturday.
IDF spokesman Daniel Hagari said these large-scale airstrikes are intended to destroy Hamas' ability to function as the ruler of Gaza. According to Hagari, there is chaos and anarchy in Gaza. There is no more fuel and therefore no electricity, as the only power plant in Gaza operates on diesel fuel. The supply of diesel ran out last night. Furthermore, goods are only being brought into Gaza from Egypt. Earlier, Israel cut off the water supply to Gaza.
Hamas and Palestinian Islamic Jihad (PIJ) are currently limiting the number of rocket attacks on Israel. According to sources within the IDF, this is being done due to an awareness that a protracted war could ensue. Hamas used to produce weapons and rockets locally, but attacks by the Israeli Air Force (IAF) have virtually eliminated that capability. Furthermore, Hamas still smuggles rockets and other weaponry through tunnels under the border with Egypt. However, its supply of rockets is limited and cannot be quickly replenished as is the case in Israel, which is now receiving arms and ammunition from the United States.
The US government announced last night that a total of 22 US citizens have been murdered by Hamas. Another 17 Americans are missing and are probably among those kidnapped in Gaza. Consequently, President Biden decided to transfer a second aircraft carrier to Israel. This is the USS Dwight Eisenhower, which is steaming up to the coast off Gaza along with other US warships. With the arrival of this fleet, the US military's firepower will be of roughly the same calibre as that of the Israeli army.
However, the build-up of the US naval fleet is not only related to the kidnapped US citizens and the fact that 17 Americans have been killed by Hamas. It is also related to the expectation that the ground war in Gaza will turn into a war with the so-called Iranian 'Axis of Resistance'. Meanwhile, it is reported from Syria that the Quds Brigade of the Islamic Revolutionary Guard Corps is transferring troops from eastern Syria to the border area with Israel.
Oct. 11, 16.24 (CET)
Update from our correspondent Yochanan Visser in Israel
Opposition leader Benny Gantz of the National Unity party and Prime Minister Benjamin Netanyahu agreed to form an emergency government. The new government will form a war cabinet headed by Netanyahu. This cabinet will include three ex-IDF generals. Current Defense Minister Yoav Galant, former IDF Chief of Staff Gadi Eisenkott and Benny Gantz himself. The other opposition parties have also expressed interest in joining this temporary government. This clears the way for the ground war against the Palestinian terrorist groups in Gaza.
Oct. 11, 15.45 (CET)
A moving blog from Yoel Shukkmann
Oct.  11, 14.28 (CET)
Update from our correspondent Yochanan Visser in Israel
The situation in northern Israel is slowly but surely escalating. It is also clear that this time not only the Palestinian terror groups there are involved in the violence against Israel, but also Hezbollah. In the background, Iran is active.
Last night, residents of Israel's northernmost city of Metula were advised to evacuate immediately. Metula directly borders Lebanon, and Hezbollah terrorists are extremely active in the area around the town. This morning, an infiltration attempt was reported near Rosh Hanikra, on the other side of northern Galilee. At about the same time, an IDF base near the border was bombarded with rockets, including anti-tank missiles. The IDF again responded with artillery shelling and with a drone attack. According to unconfirmed reports, Hezbollah ordered UNIFIL to clear all positions along the border with Israel.
Yesterday, rockets were fired from Syria on the eastern Golan Heights. Again, the IDF responded with artillery-mortar shell shelling. It was reported today from Syria that the Quds Brigade of the Iranian Revolutionary Guard Corps has been put on alert in the Deir ez-Zor area in eastern Syria, which borders Iraq. Iran has built a land bridge in the area, over which weapons and troops can be transported.
Also, two Iran-backed Shiite militias in Iraq have now announced their intention to join the fight against Israel. They are Kataib Hezbollah, not to be confused with the Lebanese terror group Hezbollah, and the Sayyid al-Shuhada Brigade. A spokesman for Sayyid al-Shuhada said that if Hamas became distressed in Gaza, his group would be the first to respond. Kazem Al-Fartousi, the spokesman, further warned the United States not to interfere in the war in Gaza. This would 'affect' US soldiers stationed in Iraq.
At the same time, the Yemen-based Ansar Allah (Houthi) militia also signalled that it would 'intervene' should Israel try to destroy Hamas. Ansar Allah has missiles supplied by Iran that can reach Israel. The aggression against Israel from the north is coordinated by Mohammad Saeed Izadi, the head of the Lebanon office of the Iranian Quds Brigade. Izadi works closely with Hamas leader Saleh al-Arouri, who was recently threatened by Israel with liquidation.
Oct. 11, 11.37 (CET)
According to the latest information, the IDF ground offensive into Gaza will begin soon, that is, today. Now that the army has retaken the villages around Gaza from Hamas, its sights are set on invading Gaza.
A total of 460,000 military personnel are now ready for this action, which is expected to last a long time. Air Force commander Brigadier General Omer Tishler says the IAF is bombing Gaza on an unprecedented scale and that Israel will never return to a situation where terrorists there can indiscriminately fire rockets at Israel. Currently, rocket fire continues unabated. There are also continuing reports of infiltrations by terrorists from Gaza. Last night, there was panic in Ashkelon, a town 15 kilometres south of Gaza. A terrorist managed to reach the town with a paraglider, after which a gunfight broke out in which the attacker was killed.
The United States has now begun an airlift of military cargo planes bringing weapons and especially ammunition to Israel. The first US Air Force cargo plane landed at Nevatim airbase in southern Israel last night. Among the munitions and weapons delivered by the US are the Tamir missiles used by the Iron Dome. US President Joe Biden gave a press conference last night in which he used unprecedented language to condemn Hamas' crimes. Biden also said the US stands squarely behind Israel and will do all it can to help the Jewish state eradicate terror. A fleet of US warships including the aircraft carrier USS Gerald Ford is on its way to the coast off Gaza. The decision to bring this group of warships closer to Israel was also prompted by the fact that US citizens are among the dead and kidnapped.
Meanwhile, the IDF reported that the death toll in Israel has risen to over 1,200. The number of wounded is also rising and is now over 3,000. The IDF found more than 3,000 weapons that the terrorists had used to kill civilians. Among these weapons were anti-tank missiles and even unmanned attack aircraft. Most of the weapons came from Iran and were mainly produced in Russia.
Oct. 11, 11.00 (CET)
Benjamin Netanyahu and Benny Gantz have agreed to form an emergency national unity government. It is expected to be sworn in this evening.
Oct. 11, 10.39 (CET)
Update from our correspondent Yochanan Visser in Israel
Last night, the IDF reported that another 32 soldiers were killed in fighting with Hamas and Palestinian Islamic Jihad. That brings the total of IDF soldiers killed since the start of the war to 156, including those killed in a firefight with Hezbollah terrorists in northern Israel. Last night, the IDF began artillery shelling on the Daraj district, in Gaza City. This district contains many Hamas institutions and military installations.
Defence Minister Yoav Galant addressed the troops along the border with Gaza, some 460,000 in number. "I have removed all restrictions, and after we regain control of the border area we will proceed to the offensive," he said. Hamas wanted change in Gaza, and it will change 180 degrees from what it originally thought. They will regret this moment because Gaza will never return to the state it was", Galant said. The IDF has made clear that eliminating Hamas' top command is a priority, after a number of top Hamas officials were killed from the air.
Oct. 10, 17.18 (CET)
In the last few days, several messages have been circulating on WhatsApp channels from which we learn that Hamas has numerous phones of living or dead Israelis who have been taken to the Gaza Strip. These are used to penetrate Israeli users' WhatsApp groups and extract information from them.
This corroborates the statements of Israeli family members and friends of the abductees, who in several cases reported suddenly receiving calls in Arabic from the numbers of their missing sons and daughters. In one case, someone called an Israeli mother and told her in Hebrew that her son was dead. The mother burst into hysterics and asked who he was. He replied that his name was Mohammed and that he was a colonel in the Gaza Strip. In another case, Mor Baider said she saw a video of her murdered grandmother on her personal Facebook page.
Oct. 10, 17.12 (CET)
30 missing people found safe in Gaza border kibbutz after hiding out for 3 days. 16 Israelis, 14 Thai nationals located in Ein Hashlosha by IDF team; 'We will continue to work with our partners 24 hours a day to find other missing people,' says police official.
Yossi Graiber, a Home Front Command officer, said Tuesday that "amid great darkness, we had a little bit of light last night." Graiber said that the rescue of the 30 people brought "enormous excitement" to the members of the joint situation room: "This is a moment where you realize the power of our mission."
Assistant Commissioner Boaz Blat, heading up the Israel Police's unit to locate missing people, vowed that "just as we succeeded in locating these missing people and others, we will continue to work with our partners 24 hours a day to find other missing people."
Oct. 10, 14.45 (CET)
Update from our correspondent Yochanan Visser in Israel
A total of 360,000 reservists have now been called up in Israel for the coming war, which in fact already began with Hamas' invasion last Saturday. This means that the IDF will enter the war with the entire available manpower.
Some of the reservists are living abroad, but even there, the motivation to help defend the homeland is high. Israeli Air Force planes already flew hundreds of reservists, who were staying in Europe, to Israel last night.
The fact that the IDF has now called up and will deploy all available combat soldiers indicates that something big is about to happen. Such a mobilisation has not taken place before. The fact that there is already a second front on the border with Lebanon and the fact that Shia militias in Syria have been put into the highest state of readiness indicates the long-anticipated multiple front war with the so-called Iranian 'resistance axis'.
Iran trained Hamas and provided it with the weapons that made the invasion of southern Israel possible. The script Hamas followed during that invasion was written by Hezbollah leader Hassan Nasrallah. The latter has spoken openly on several occasions about invading Israel and kidnapping Israelis by his forces.
Oct. 10, 13.16 (CET)
Mr. Almog Doron, Chairman of the Executive of The Jewish Agency for Israel, mourns the loss of six relatives. He sent us the following moving message:
Dear friends,
We are in the midst of a war on the State of Israel. A war that was forced upon us by complete surprise, much like the Yom Kippur War. It is a very complex situation that we have never seen before.
In all my years in Israel and in the IDF, I never believed that we would reach such a terrible scenario, in which hundreds of innocent civilians are on the front line, many of them murdered and kidnapped, including babies, children, women and the elderly. We are exposed to videos and pictures that show an unprecedented level of brutality of the enemy. These are horrific scenes from dark times.
Yesterday evening, I was informed that six of my family members were murdered in Kfar Gaza: Chen Almog Goldstein, Nadav Goldstein, their daughters: Yam and Agam and their sons: Tal and Gal. The grandfather of the family, Chen's father, Giora Almog who for over 30 years raised generations of children in the kibbutz, just two weeks ago presided over the memorial service for the five members of our family who were murdered in Maxim restaurant in Haifa 20 years ago.
We are facing a long military campaign, the extent and severity of which we still do not know, so I am asking you to stand by our side and as much as you can. We need you with us today more than ever.
The State of Israel is the state of the entire Jewish people. Those in Israel and those in Jewish communities everywhere. "Our strength is in our unity" is now not just a slogan. We promise to answer all your questions when the time comes. We are now concentrating our best efforts towards expanding the number of volunteers and raising funds for critical needs in order to continue to ensure the safety of the residents along the Gaza border and the essential support system of the Victims of Terror Fund. For the Jewish people. For the continued building and development of the State of Israel.
I see you and your wonderful dedication. The WhatsApps, the phone calls, the messages, the reporting for duty and the solidarity – it is incredibly moving. The sense of shared responsibility, love and togetherness inspire pride and hope. We will continue to keep in touch with you and send regular updates.
Am Yisrael Chai.
Yours with love,
Doron
Oct. 10, 12.25 (CET)
Pray for Israel with the words from Psalm 130.
Israel, put your hope in the Lord,
for with the Lord is unfailing love
and with Him is full redemption.
Oct. 10, 11.55 (CET)
Analysis by our correspondent Yochanan Visser in Israel:
IDF Prepares for Ground War in Gaza After the Murder of more than 1,000 Israelis
Oct. 10, 11.02 (CET)
A video from Sondra Baras, Christian Friends of Israeli Communities International President. In this update, Sondra gives the death toll as 700. Since she filmed the update, that number has been updated to an estimated 900 dead. There isn't a family in Israel who doesn't know someone who has been killed, kidnapped, or wounded.
Oct. 10, 10.32 (CET)
After two days of being held by Hamas, villages in Israeli control but search for terrorists and victims continues, with the IDF "on the offensive." More than 700 Israeli residents dead in worst terrorist attack in Israeli history.

Oct. 10, 7.00 (CET)
The White House was illuminated on Monday night in blue and white, the colors of the flag of Israel, in a show of support with Israel amid the war against Hamas.
Oct. 9, 13:27 (CET)
From our correspondent in Israel Yochanan Visser
The Israeli army is gearing up for the largest military operation in Gaza ever. The government in Jerusalem, meanwhile, has taken some unprecedentedly drastic measures against Gaza. Yoav Galant, Defense Minister, announced a total closure of Gaza.
All border crossings are now closed and nothing will enter Gaza. No fuel, no goods, nothing. Last night it was already announced that the supply of electricity to Gaza would be stopped. It is not clear whether this has actually happened. Galant said that "there will be no gas and electricity in Gaza. We are fighting against barbarians and we will respond appropriately." Water supplies to Gaza will also be cut off.
Oct. 9, 13:10 (CET)
The Jewish Agency evacuated 916 olim (Jewish immigrants) today from southern Israel. 460 of them came from Ibim, a village near Sderot. All have been moved to safety in central Israel.
Oct. 9, 11:10 (CET)
Air raid sirens sound at several locations in Israel, including in Tel Aviv and Jerusalem. There are no immediate reports of interceptions or missile strikes (yet). Pray for God's protection.

Pray for the wounded and families of murdered Israelis
The ever-rising death toll in Israel currently stands at more than 700, most of them are civilians. Pray for the bereaved families. Over 2,200 people are injured, including 22 critically and 343 seriously. Pray for their healing and recovery.
Pray for the protection and release of hostages
Hamas has taken more than 100 men, women, children, elderly and soldiers hostage. They were taken to the Gaza Strip. Pray for protection of the hostages and strength for their families.
Protection and safety
We pray for supernatural protection for the rest of the country. For God's protection for the civilians and the army. That God may be their shield and a wall of fire around them.
Pray for the Israeli army
The Israeli army has mobilised 300,000 reservists. This is the largest Israeli mobilisation ever. It is still unclear if and when there will be a counterattack. Pray for wisdom, protection and insight.
Pray for decision-makers
We pray for Israeli government officials and military commanders to make wise and God-guided decisions.
Pray for medical care in Israel
Hospitals in Israel are flooded with injured people. Pray for the medical care, for wisdom and decisiveness among medical teams. Pray that all the wounded can be treated.
Terror and rockets
We pray that all remaining terrorists in Israel will be captured or neutralised. We pray for protection from the thousands of Hamas rockets. (Psalm 44:4-8)
Pray for protection of the Jewish community worldwide
When something happens in Israel, hatred and violence against Jews increases worldwide. Pray for God's presence and protection of the Jewish community around the world.
Blessing for Israel
Let us pray that Christians around the world will wake up to the reality of increasing demonically inspired antisemitism. That we bless the Jewish people and pray for God's plans for Israel to be fulfilled.
Pray for peace
We pray for the peace of Jerusalem. (Psalm 122:6)