Support Israel
Covid-19 doesn't stop the Aliyah
With three special flights a total of 170 olim (Jewish immigrants) from Ukraine landed safely in Israel in May. The Aliyah (return of Jews) from Ukraine came to an abrupt end on Thursday, March 19, when the last flight with olim left from Zaporozhe, a city in Eastern Ukraine. After that the country was locked down because of corona.
From then on, it was unclear when Israel would give the green light again to bring home their 'sons and daughters from the diaspora, or one could almost say: 'repatriate' from Ukraine! More than a thousand Jewish families had already received their exit visa, valid for 3 months, from the Israeli Embassy in Kiev to leave after March 19. But then, all of a sudden, it was no longer possible. The Jewish families literally came from everywhere: from larger and smaller cities, from villages near the Romanian, Moldavian and Hungarian borders in the west. From near the Belarusian border in the north and the Russian border in the east.

In the end we got the green light – the aliyah could continue! Every member of the C4I team that was available and our friends of the Christian Aliyah Alliance helped to pick up families with small vans, since it is still forbidden to drive with larger buses (more than 9 seats) from one province to the other. Some drivers had to pass twelve quarantine-roadblocks to get to their destination. Fortunately they have special papers to pass these roadblocks!
During the last two kilometers to terminal F of Kiev airport, the highway was completely empty. In the departure hall there were only families with a 'one-way ticket' from Kiev to Tel Aviv. It was very special to experience all of this, it was very surreal! It made us think: the world is at a standstill for a moment but the return continues – albeit sparsely. In spite of all the obstacles: Isaiah 62 : 10!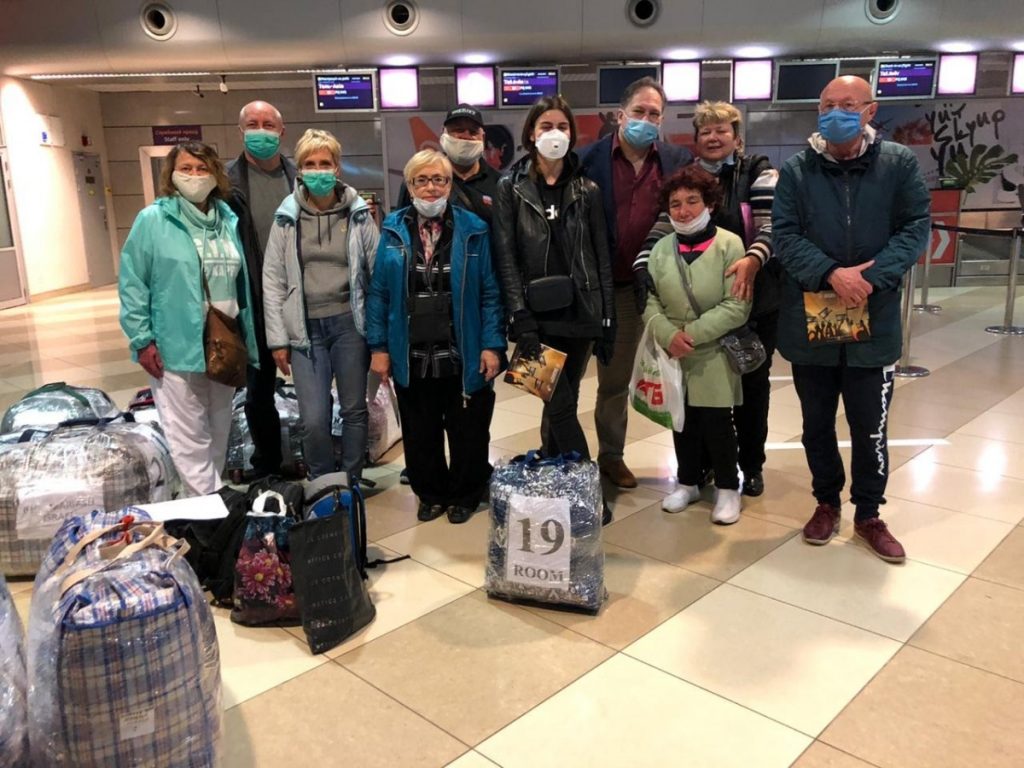 19 May, the day of departure, four o'clock in the morning
A young family we picked up had fled from Donetsk earlier. They ended up 250 km away in the large polluted industrial town of Zaporozhe with almost 1 million inhabitants. Elena's grandmother had survived the Holocaust in Vinnitsa, but Elena had absolutely no idea that this would later play an important role in their return. In Zaporozhe, they came into contact with a Jewish organization working for all refugees – Jewish and non-Jews – from Eastern Ukraine. Elena, her husband and daughter visited this organization. Because they were in a new city at the time, looking for work, finding a place to live… Here in Ukraine you have to figure it out all by yourself.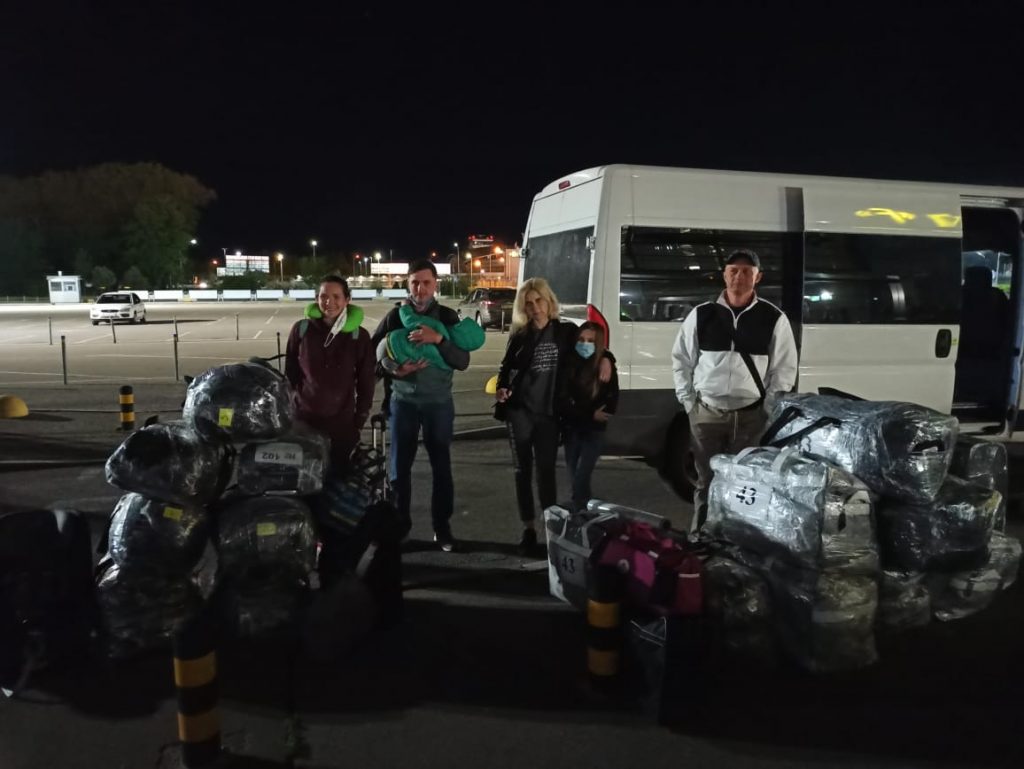 It was there that Elena was told that she also had the possibility to go to Israel because of her Jewish descent. She had never thought about it, but that thought never left her. Through all kinds of programs the family learned more about their Jewish identity. And then the moment came, they felt they were ready to leave for Israel. The official documents were arranged as well as the visa to leave in April. However, then the news came that they could no longer travel because of the corona pandemic.  The family had to wait patiently for the green light. At the beginning of May they finally heard that they were among the 170 lucky ones to leave.
Just before they left Zaporozhe we had a meeting with the local rabbi. He thought it was amazing that Israel was doing everything possible to repatriate Jews from the diaspora to their Home. That they may exchange their temporary place of residence for a permanent place of residence in Jerusalem, Judea and Samaria! Amos 9 : 15
Young and old
The youngest immigrant who left on 19 May was an eight-month-old baby and the oldest was an 89-year-old. Exactly as it is so beautifully described in the Bible: young and old, in a big crowd they will return and both the Jews and the nations will be amazed! Psalm 126.
63-year-old Ludmilla from eastern Ukraine was there. She stayed in our shelter for two days, and tells her gripping life-story in this video (w/ English subtitles)

Special welcome by the Minister of Aliyah and Integration
The group of olim from Ukraine who landed in Israel were welcomed by new Immigration Minister, Pnina Tamano-Shatah. She grew up in Ethiopia and made Aliyah herself. She is the first (originally) Ethiopian minister in Israel. She welcomed the group with the following words:
"Welcome to Israel! Every Aliyah is a reason for celebration. The return of Jews from all over the world is a symbol of unity of the Jewish people of Zion. I was privileged to begin my post as the Aliyah and Immigration Minister with the arrival of 109 new olim from Ukraine. Along with them, I am excited to begin the Israeli-Zionist journey with concern for their optimal absorption and unconditional well-being. Aliyah is building this country, and so it was and will continue to be on my watch. Welcome back!"
Thousands already packed their bags
Upon arrival, all olim have to go into quarantine for two weeks, and then their integration can start.
Now we have to wait until June to see if other flights for olim from Ukraine to Israel will be allowed. The thousands who have already packed their suitcases have to wait patiently.
Support our campaign Bring the Jews Home and help the Jewish people to make Aliyah. For 135 euros or US $ 160  we can help one Jew to make all the preparations to immigrate to Israel. Of course any amount is welcome.
Donate in €
Donate in US $